If you've ever lost years' worth of cherished photos, you'll understand how important it is to prepare for the worst. You could've saved yourself a lot of heartache if you'd backed up all of your favorite snaps.
Anyone can play Captain Hindsight, though. When things go wrong it's easy to point fingers. What's more impressive, however, is putting a disaster-recovery plan in place proactively. This will dampen the impact of unexpected events.
For WordPress users, Dropbox is a useful piece of the disaster-recovery puzzle. The cloud-based file hosting service stores over 1.2 billion new files each and every day – as such, it can be trusted to keep your most important website files safe and sound.
Today, we'll be looking at WordPress-Dropbox integration in more detail, as we explore 15 of the best Dropbox plugins.
Why You Need a Dropbox Plugin?
There are two main reasons why you might want to install a Dropbox plugin on your WordPress website.
The first is website backup. No hosting service or WordPress expert in the world can guarantee that your website will never crash. Should the worst happen, and it always pays to be overly cautious, a website backup is the quickest way to resolve the problem.
This is especially true for any freelance developers out there. If you want to gamble with your own website, that's your prerogative; however, you need to be prudent when dealing with client sites.
As much as we like to think that clients are paying for a fancy design, first and foremost they're paying for a website that works. If it doesn't, and even if it isn't your fault, the buck stops with you. Make backing up a priority – have you considered charging a monthly fee for website maintenance?
Now that you're fully on board with backing up your website, you need to find a secure and dependable place to store the backups. This is where Dropbox comes into play – it's one of the biggest and most trusted cloud storage spaces around. You can also integrate Dropbox storage with a WordPress website with ease, courtesy of trusty plugins.
Second: Dropbox can ease the burden on your server, reducing disk space by storing your website's heavier elements externally – images, graphics, videos, and audio files.
Depending on your server speed, Dropbox could even serve your images faster. Dropbox certainly isn't a replacement for a high-end CDN, but if you're using low-cost shared hosting, you might see some speed improvements.
This post features Dropbox plugins developed for both purposes, as well as a few extra fun ways to integrate Dropbox with your WordPress website. For now, though, it's onto the plugins!
Dropbox Backup Plugins
Let's start by exploring some of the best WordPress backup plugins featuring Dropbox integration.
BackupBuddy (from $80)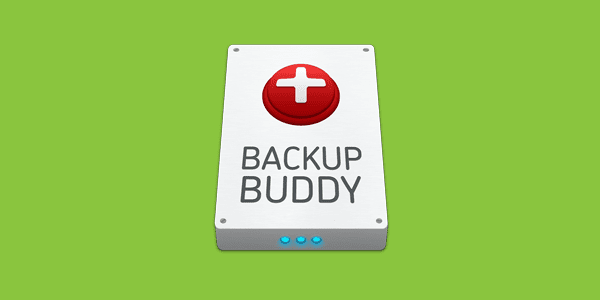 In the world of website backup, few names come bigger than iThemes' BackupBuddy. The plugin creates complete backups of your website automatically, like clockwork, at pre-configured intervals. Should disaster strike, BackupBuddy also makes it super-easy to restore your website to its former self.
Storing website backups on the same server as your website is fraught with danger – all it takes is one server failure to crash your live website and wipe out your backups. For this reason, it pays to store your backups on a different server, and BackupBuddy is compatible with several external storage spaces. This includes Dropbox (duh!), as well as Amazon S3, Google Drive, and BackupBuddy's very own Stash storage space.
WordPress Backup to Dropbox (FREE)

WordPress Backup to Dropbox is a free alternative to BackupBuddy. Easy to setup and authenticate, the plugin automates the backup of your website's media, content, and database. You can select exact dates and times for backups, or you can specify automated backup frequencies.
The backup is then saved to the Dropbox cloud servers – and your own servers, too, should you wish. If a full backup isn't required, you can also choose to exclude certain files and folders. WordPress Backup to Dropbox is available in over 20 languages, plus premium extensions are available for those looking for extra functionalities.
WordPress Backup and Clone Master ($33)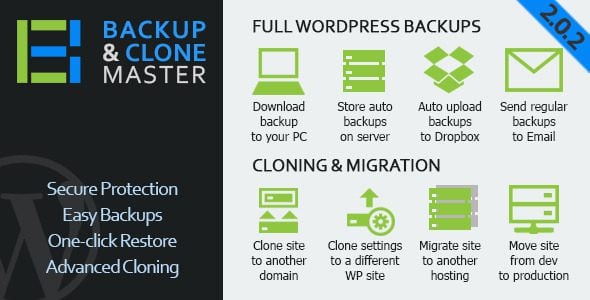 Up next, WordPress Backup and Clone Master – CodeCanyon's best-selling backup plugin. The plugin creates full WordPress backups which can be saved to your PC, your website's server, via email, or to external Dropbox servers. Backups can be restored with a single mouse click.
It also offers some useful migration features, perfect for those looking to move their existing website to a new host or domain.
BackWPup (FREE)

BackWPup is available as a free plugin from the WordPress repository. The plugin creates database backups, saving them to external storage spaces including Dropbox, FTP, Amazon S3, Microsoft Azure, SugarSync, and Rackspace Cloud. As well as backing up the database, BackWPup can also be used as an optimization and repair tool.
BackWPup Pro is also available, with prices starting at $75. It offers 12 months' support, plus two additional backup services: Google Drive and Amazon Glacier.
Snapshot Pro (from $19/month)
Next we have WPMU DEV's Snapshot Pro. Buy it individually from $19/month, or as part of a WPMU membership costing $24/month – the latter is well worth the extra few bucks as it gives you access to 120+ plugins.
Snapshot Pro lets you schedule backups at any intervals – from every 5 minutes to once a month. These "snapshots" are then stored to any of the popular cloud storage systems: Dropbox, Google Drive, and Amazon S3.
Because you can save multiple backups, this essentially lets you rewind your website to any point in time. Backups are activated using the plugin's awesome one-click restoration feature.
Dropbox Backup and Restore (FREE)

Now it's the turn of Dropbox Backup and Restore, another free backup solution. The plugin creates a full backup of your WordPress website, saving backups locally or to the Dropbox cloud servers. You can store an unlimited number of individual site backups, plus you can perform unlimited restores.
This makes the plugin an excellent option for anyone looking to backup, restore, migrate, and duplicate their WordPress website, all without ever spending a penny!
Other WordPress Dropbox Plugins
Now it's time for the non-backup plugins. Use these plugins to free up bandwidth by utilizing the Dropbox cloud-based servers.
Out-of-the-Box ($29)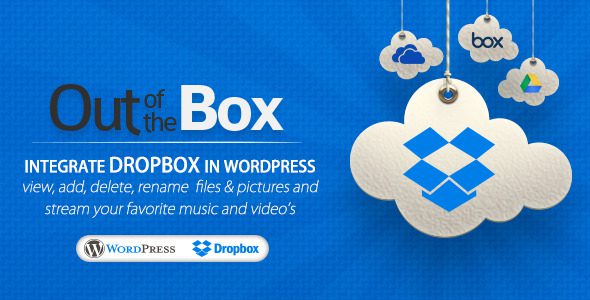 The Out-of-the-Box plugin offers full integration between WordPress and Dropbox. The plugin embeds a Dropbox browser, giving visitors full access to your Dropbox files – of course, you can also restrict access to certain areas.
Out-of-the-Box comes with some other useful features, too. For a start, it allows visitors to view your videos and listen to audio files – all from the Dropbox servers. Best of all, images are displayed in stylish galleries, complete with built-in lightboxes and lazy load.
Direct Download for WooCommerce ($15)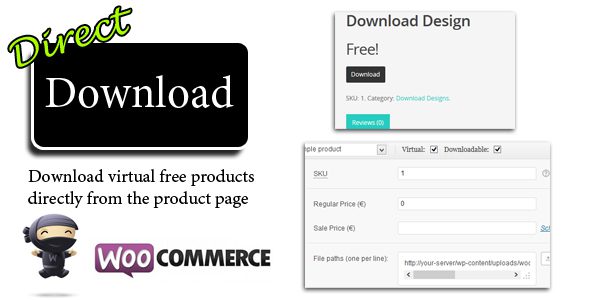 WooCommerce ships with built-in support for digital downloads. If, however, you'd prefer to host the digital files away from your web server, the Direct Download for WooCommerce plugin lets you use Dropbox's storage space.
The plugin also lets you offer digital products for free via product pages, without visitors ever having to navigate the checkout process.
Embed Any Document Plus ($17)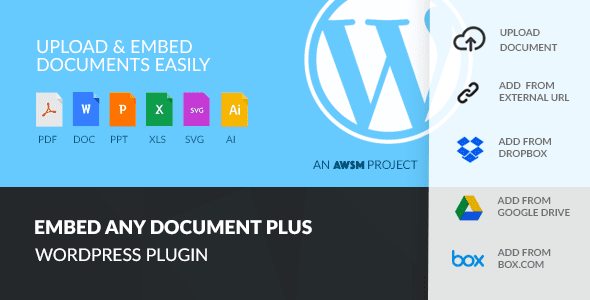 If you want to share a Dropbox file with the world, you can simply place an external link within your content. Embed Any Document Plus takes a different approach: embed your documents into your content instead! PDFs, Excel, Word, and PowerPoint documents are all supported.
You can embed documents from a number of cloud services, including Dropbox, Google Drive, and Box.com. Embedding documents is a cool feature that's rarely seen, plus it will save valuable bandwidth.
Simply Attached (FREE)

Simply Attached lets you migrate your file storage away from the WordPress Media Library, using Dropbox's cloud servers instead. The plugin then prettifies your download links, which can be placed throughout your content (screenshot above).
Download lists provide all the important information: file name, size, description, and link. The lists look stunning on your website, too, with five list styles to choose from and full color customization.
Global Gallery ($23)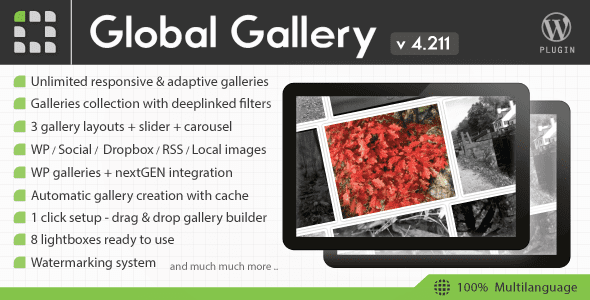 Global Gallery is a stunning image-focused plugin, letting you craft gorgeous, responsive image galleries, sliders, and carousels. There are unlimited customizations on offer, plus eight lightboxes and three gallery layouts – including my favorite, masonry.
But where does a gallery plugin fit on a post about Dropbox? Well, Global Gallery lets you attach images from outside the WordPress Media Library. Other image sources include Dropbox, Flickr, Instagram, Pinterest, Tumblr, and 500px – this is a quick way to save disk space.
WooCommerce Dropbox (FREE)

Another WooCommerce plugin up next, for anyone looking to store bulky digital downloads in the cloud, rather than on their own server. As I'm sure you're aware: serving your downloadables via Dropbox is a great way to reduce bandwidth, free up disk space, and cut download times.
This plugin is available for free from the WordPress repository.
Post via Dropbox (FREE)

As the name implies, this plugin lets you add posts to your WordPress website via Dropbox. Simply upload a text file to Dropbox, then sit back as the plugin retrieves it and uploads it to your live website.
You can add HTML formatting to the text file, ensuring your content looks top notch on your live site. You can also edit existing posts via Dropbox, too.
Dropr ($17)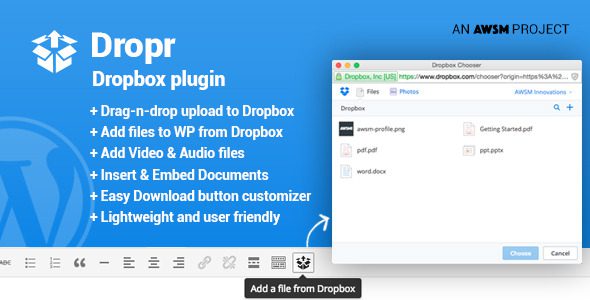 Dropr essentially turns your Dropbox account into a secondary WordPress Media Library. You can access your Dropbox files from the WordPress text editor screen, then drop files into your content as you please – without ever having to upload them to WordPress.
This makes it a great way to save bandwidth, plus Dropbox offers better file management than WordPress.
Media Manager Plus: Dropbox ($9)

Media Manager Plus is an awesome free plugin that upgrades the WordPress Media Library. Rather than having to upload your media files directly into WordPress, you can simply import them from popular third-party services such as Instagram, Flickr, 500px, and Dribbble.
The core plugin is fully extendable, allowing integration with additional third-party services. This includes a Dropbox extension for just $9. Other premium extensions include support for Facebook, Twitter, and Behance, among others.
Final Thoughts
If you're looking to store website backups safely in the cloud, Dropbox is a fantastic option. Dropbox is also useful for those looking to trim their server bandwidth – by hosting heavy files externally, you place less strain on your servers.
Today's list features both types of plugins: six Dropbox-compatible backup plugins and nine plugins offering tight Dropbox-WordPress Media Library integration. You only require one plugin in the first category, but you can add several in the second category should you wish.
Of course, there are loads of Dropbox plugins out there – we couldn't possibly cover them all in one post. We've tried to present a varied range of functionalities and also free/premium price tags.
Do the plugins we've covered above meet your criteria for a good dropbox plugin?
Article thumbnail image by Creative Stall / shutterstock.com.