If you want to build an eCommerce store on WordPress, you're probably planning to use WooCommerce. But you can't just use WooCommerce on any old WordPress theme. No, you need a WooCommerce compatible theme if you want your store to function perfectly.
So to help you find the perfect theme for your WooCommerce store, I've put together this list of the best WooCommerce compatible WordPress themes. Then, at the end of the list, I'll show you some WooCommerce compatible goodies from our very own Elegant Themes membership.
20+ Best WooCommerce Compatible WordPress Themes 2017
Many themes nowadays tout at least some level of "WooCommerce compatibility". But when making this list, I tried to stay away from multipurpose themes that just add token WooCommerce compatibility.
If an otherwise multipurpose theme truly put effort into supporting WooCommerce, then I had no problem including it in the list. But I needed to see something beyond the theme authors just arbitrarily throwing "WooCommerce compatible" on the feature list.
Beyond the actual WooCommerce compatibility criterion, I also looked at a few other criteria when building this list:
Rating – The minimum rating that I accepted was 4-stars.
Popularity – Popular themes correlate with a greater chance of continued developer support, so I think it's a major plus when a theme is well-adopted.
Aesthetics – Sure, beauty is in the eye of the beholder…but I tried to mostly choose themes that will appeal to a broad swathe of shops.
Demo content for WooCommerce pages – While not a necessity, I viewed it as a positive when a theme included easily importable demo content for common eCommerce pages.
Ok, let's dive into the list!
1. Flatsome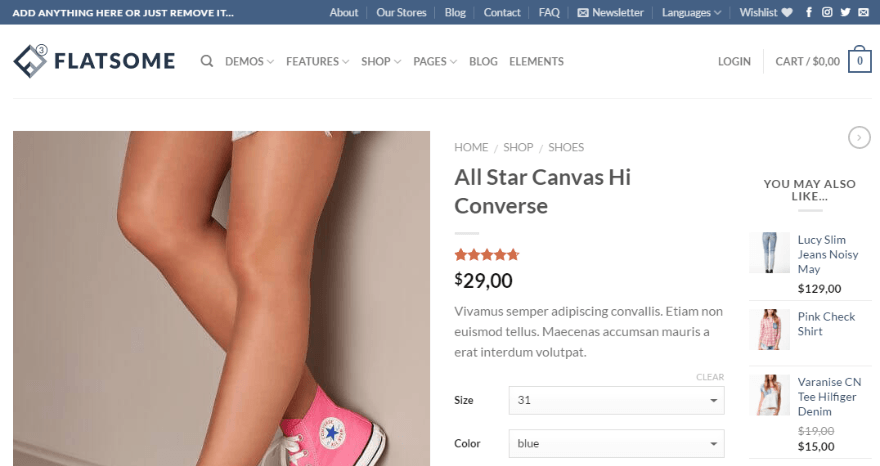 Flatsome is the best selling WooCommerce theme at ThemeForest. And for good reason. It includes a live page builder with a bevy of helpful WooCommerce (and general) elements as well as a sales-centric design and page speed optimizations.
Key Features:
Built-in visual page builder
Unlimited header options and a drag and drop header builder
Built-in live search
One-click importable demo content
Unlimited product page layouts
Easy wishlists
Catalog mode if you're not directly selling products
Price: $59 | More Information
2. Shopkeeper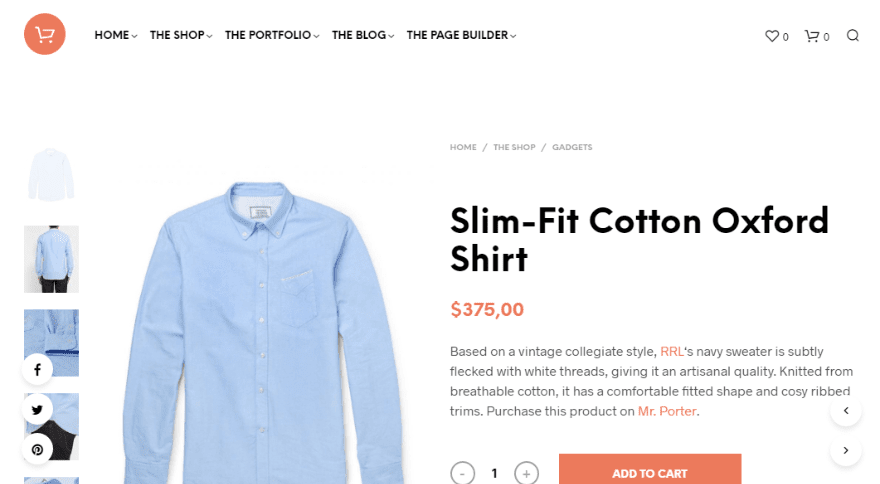 Shopkeeper is my personal favorite WooCommerce theme. And judging by its 13,000+ sales, I'm not the only one who's a fan of this theme from Get Bowtied. It has a gorgeous modern aesthetic that's perfect for more trendy eCommerce stores.
Key Features:
Uses the WordPress Customizer
Built-in Visual Composer for drag and drop page building
Unlimited header styles
Flexible shop layouts and tons of product page templates
Catalog mode
Price: $49 | More Information
3. Storefront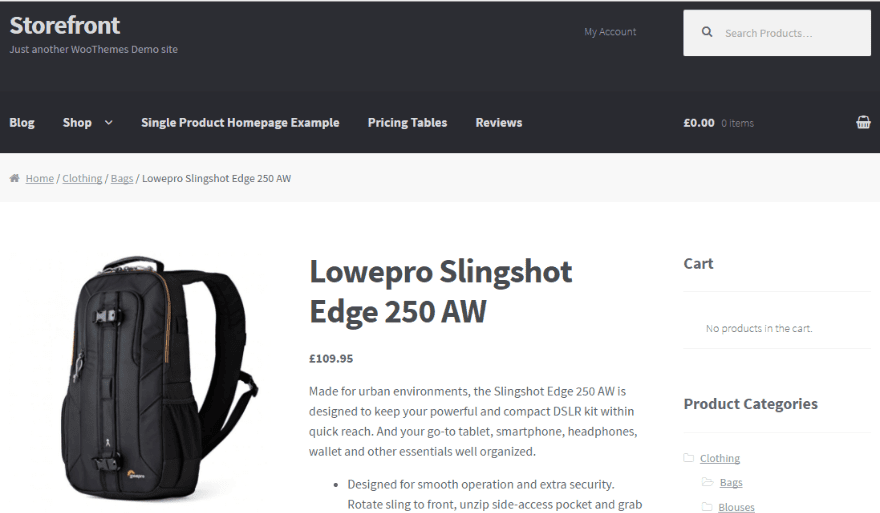 It wouldn't be right to create a WooCommerce theme list and not include the official WooCommerce theme! Storefront comes straight from WooCommerce themselves, which means that it's pretty well integrated with WooCommerce.
Key Features:
Simple, flexible design to fit a number of store types
Well-coded because it's built on the Underscores starter theme
Schema markup for improved SEO
Lightweight display options
Price: Free | More Information
4. Bazar Shop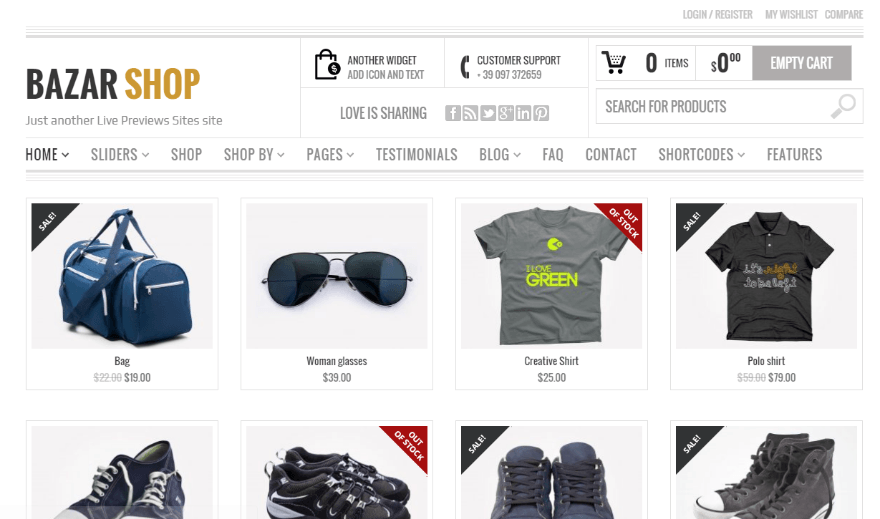 Bazar Shop is another popular ThemeForest offering that gives you a great deal of flexibility over your store layouts. It includes mega menus, unlimited layout options, and tons of other features to help you customize your store. And it also boasts a stellar 4.53-star rating on its 11,000+ sales.
Key Features:
2 different custom checkout pages
Catalog mode to turn off the shopping cart
Product image zoom effect
Wishlist functionality
Included popup plugin for special offers and list building
Price: $64 | More Information
5. ShopIsle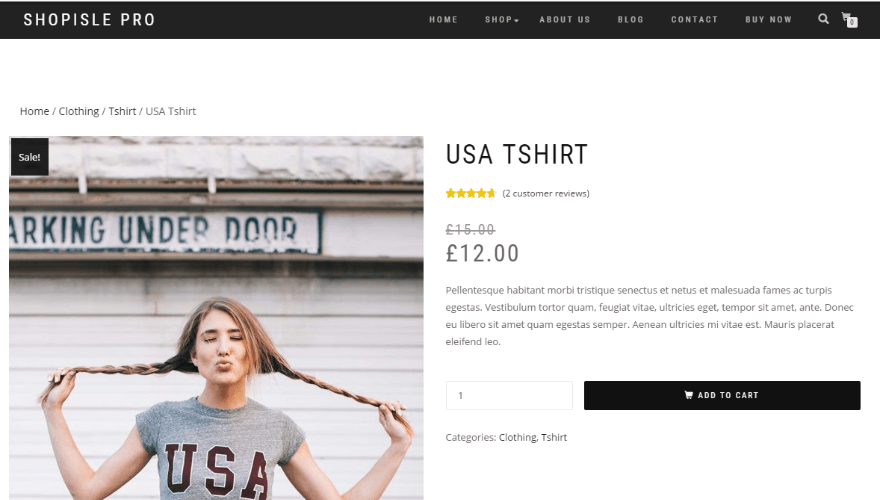 ShopIsle is a freemium WooCommerce theme from ThemeIsle. The free version, listed at WooCommerce.org, offers a slick WooCommerce design and the SiteOrigin Page Builder. The pro version builds on that with improved functionality and flexibility.
Key Features:
Built for WooCommerce
Fully compatible with the free SiteOrigin Page Builder
Mega menu support
Optimized for performance
Price: Free or part of the $99 ThemeIsle Club | More Information
6. Kalium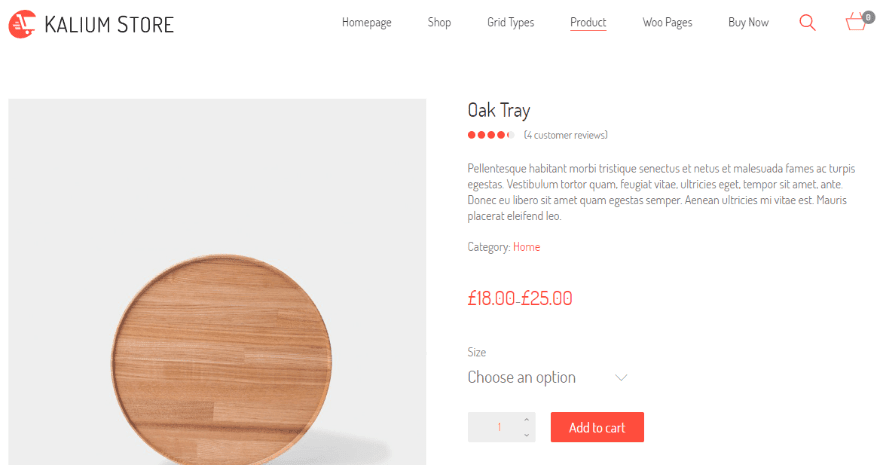 Kalium is a multipurpose theme, rather than something specifically focused on WooCommerce. But its WooCommerce compatibility makes for a beautiful store, so I think it's well worthy of being on this list. It also includes tons of added goodies like Visual Composer, Revolution Slider, and more.
Key Features:
Easily importable demo content to create a store
AJAX mini cart
Multiple product page layouts
Gorgeous hover effects
Includes Visual Composer, Slider Revolution, and more.
Price: $59 | More Information
7. Wp Store Pro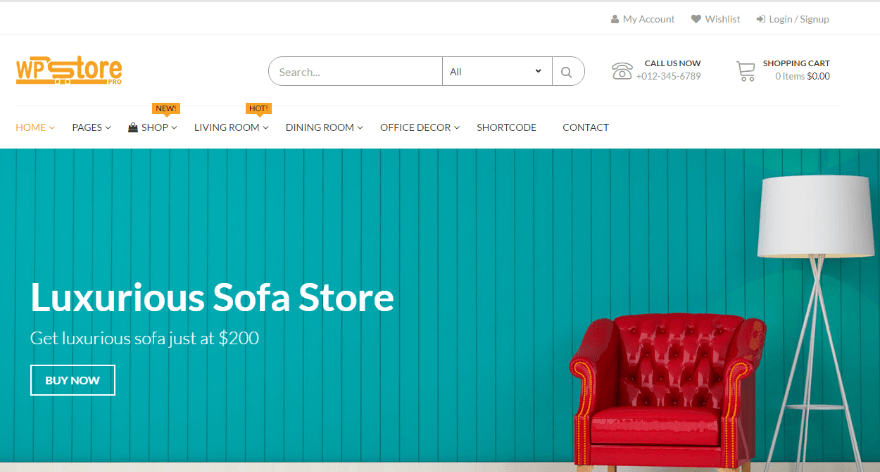 Wp Store Pro comes from independent theme shop 8 Degree Themes. It includes a basic (and free) lite version, as well as the more feature-rich Pro version that I'll focus on for this list. It's flexible and uses the WordPress Customizer for all of its theme options, which I'm always a fan of.
Key Features:
4 different shop layouts
Fully based on the WordPress Customizer for live editing
Product promotion section
Different layouts for category pages
Multiple header layouts
Price: Free lite version or $55 for Pro | More Information
8. The Retailer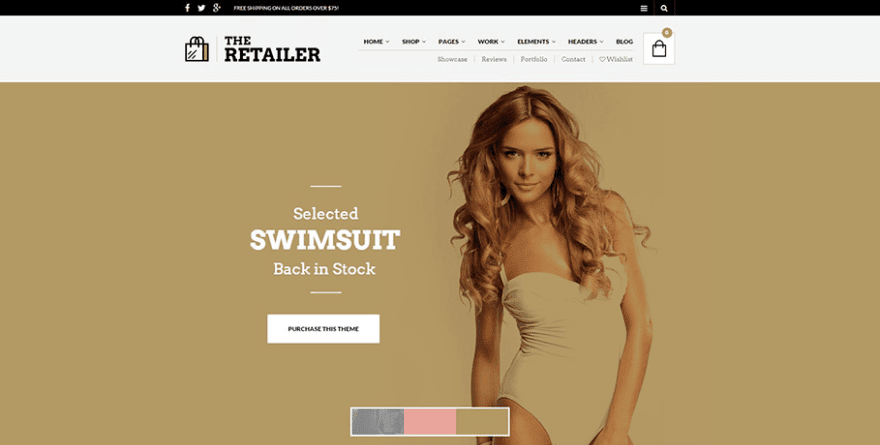 The Retailer is another gorgeous WooCommerce theme from Get Bowtied. Like its compatriot Shopkeeper, it ships with a stylish, modern design, plenty of customization options, and built-in Visual Composer. Oh, and it's almost as popular, too! Coming in at almost 13,000 sales.
Key Features:
Pre-built demo content for a variety of different page layouts
Built-in Visual Composer
Detailed theme options panel
Price: $59 | More Information
9. Orson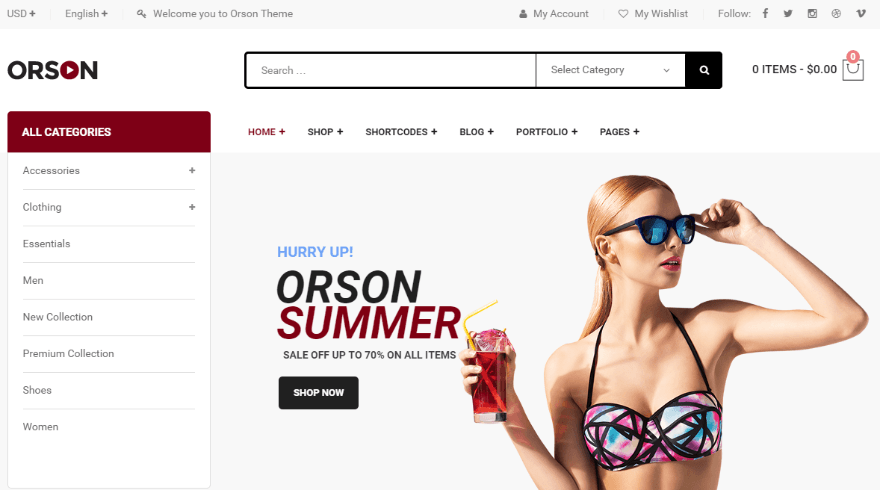 Orson is a stylish WooCommerce compatible theme with 23 premade layouts. While it's not quite as popular as the other options (only 125 sales currently), I love its design and it has a solid 4.8-star rating so far. It also comes from an Envato Elite author, rather than a drive by theme shop, so it's going on the list despite those low sales numbers.
Key Features:
23 different pre-made homepage designs
Built-in Visual Composer
Tons of different header options
Mega menus
Price: $60 | More Information
10. eCommerce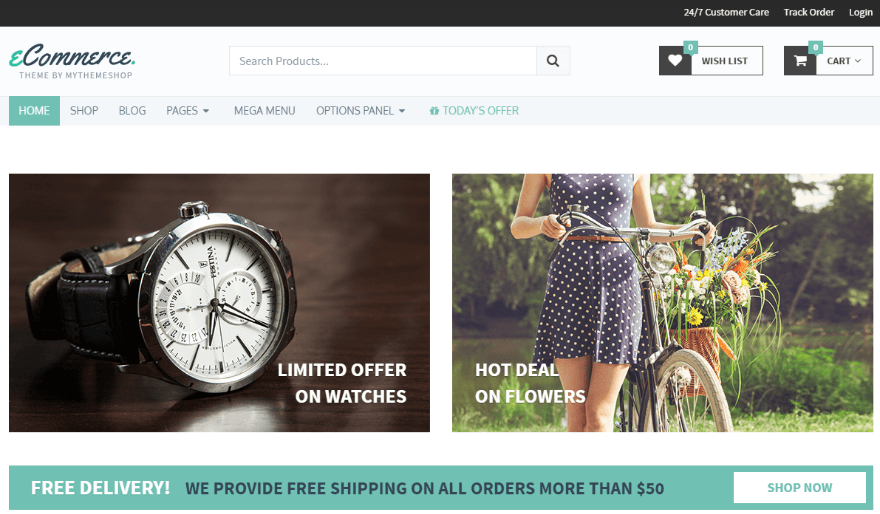 eCommerce is a creatively named WooCommerce theme from MyThemeShop. Like other MyThemeShop designs, it has an emphasis on performance and fluidity.
Key Features:
6 different header styles
Unlimited homepage layout combinations
Unique product slider widget
Related products carousel
AJAX live search and filters
Product comparison tool
Wishlists
Price: $59 | More Information
11. Blaszok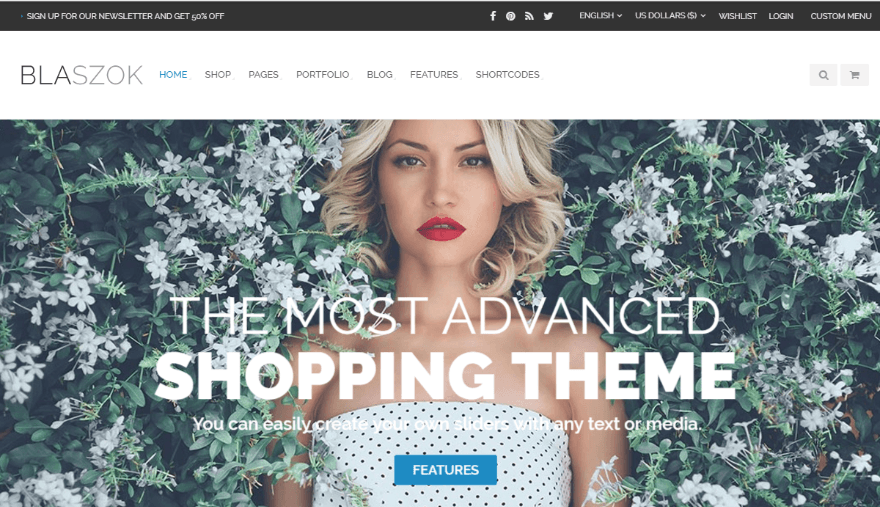 Blaszok is a popular eCommerce theme that ships with 25 ready-to-use demos to make it easy to get your store up and running. Beyond that, you also get neat features like smart search, size guides, and tons of different layout options.
Key Features:
25 different demos
Built-in Visual Composer with custom extensions
Smart search for improved product search
Lookbook and catalog functionality
Quick view for easy product browsing
Wishlists
Size guide functionality to help customers choose the right size
Price: $39 | More Information
12. Lemon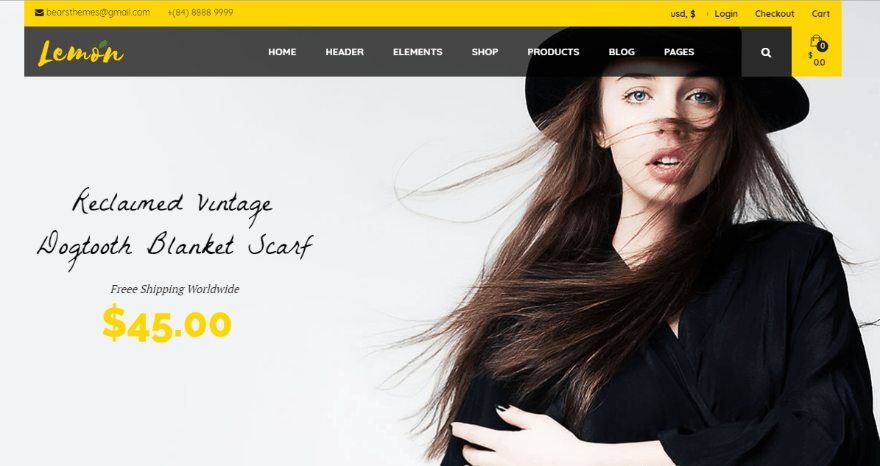 Lemon offers fairly unique styling as far as WooCommerce compatible themes go. It won't be for everyone, but if you dig the aesthetic, it's definitely got style. But there's substance, too. Lemon also ships with 7 different homepage examples as well as Visual Composer and Slider Revolution.
Key Features:
7 different homepage demos
Built-in Visual Composer and Slider Revolution
AJAX product filters
Price: $59 | More Information
13. Aurum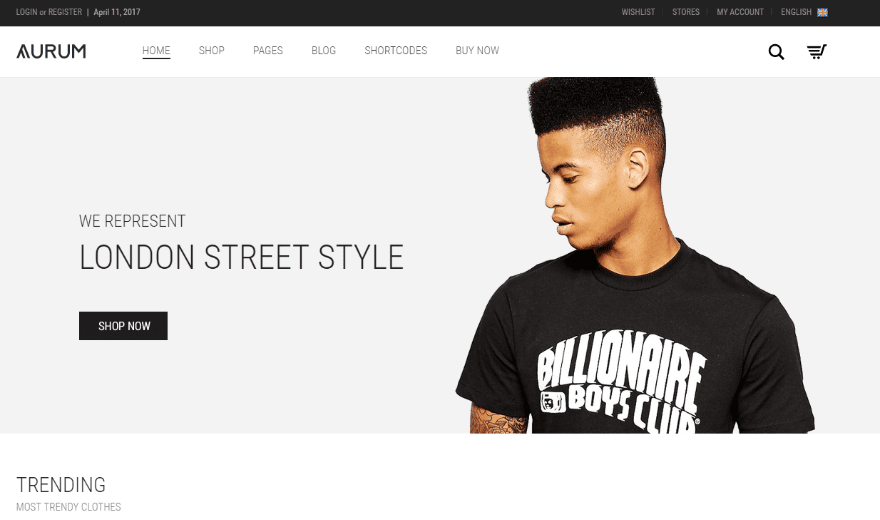 Aurum is a minimalist shopping theme from Envato Power Elite author Laborator. In a world of busy eCommerce themes, Aurum's minimal style definitely stands out. Aurum ships with a few different demos. Or, you can use the skin builder to create your own layout.
Key Features:
4 different demos for fashion, jewelry, book, or technology stores
Built-in welcome page for different geographic locations (translations)
Optimized for touch
Built-in Visual Composer
Multiple header layouts
Price: $59 | More Information
14. Mystile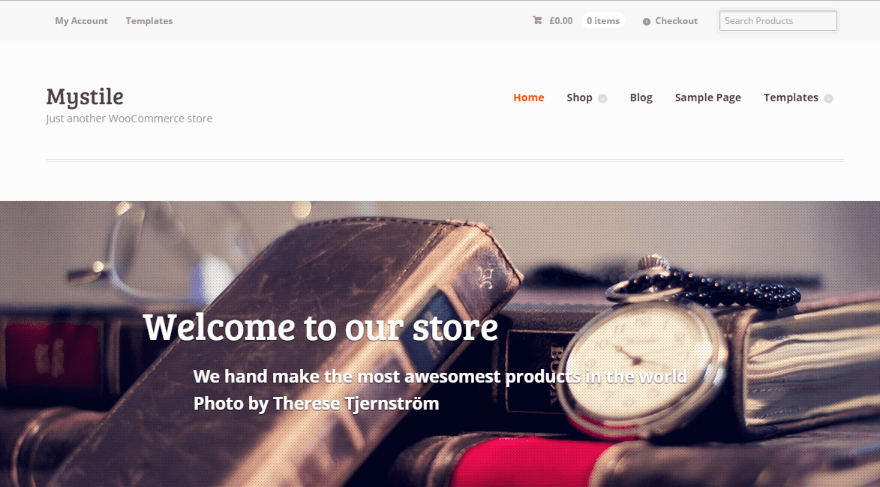 Mystile is a free and lightweight WooCommerce theme available at the official WooCommerce theme directory. While it's not as detailed as some of the other themes, it has a simple and clean design.
Key Features:
Custom widget areas for easy homepage customization
Multiple color schemes
Two custom shortcodes for things like sales banners
Price: Free | More Information
15. Savoy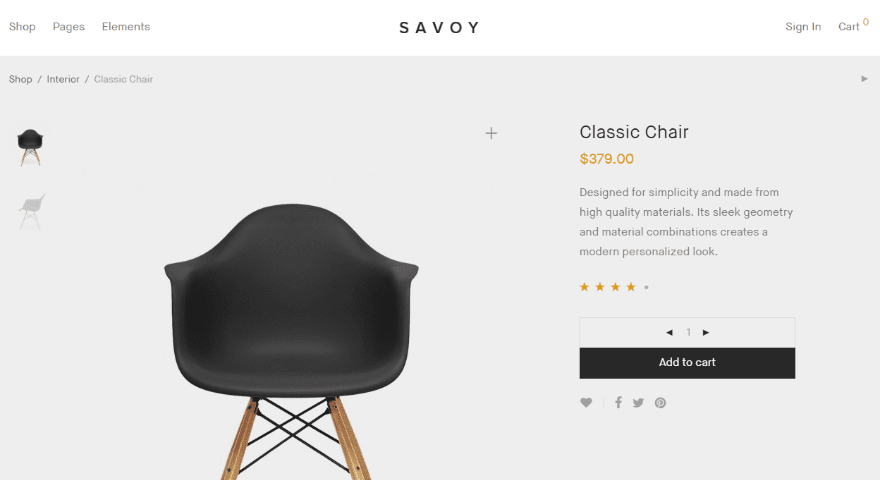 If IKEA developed a WooCommerce theme, it would probably look like Savoy. I guess that makes sense because Savoy comes from theme developer Nordic Made (Scandinavian connection!). It's modern, minimalist, and perfect for stores that fit that aesthetic.
Key Features:
AJAX product search
Mouse-over zoom for images
Product image lazy loading for faster page load times
Optional wishlist
Built-in Visual Composer
Price: $59 | More Information
16. Shopper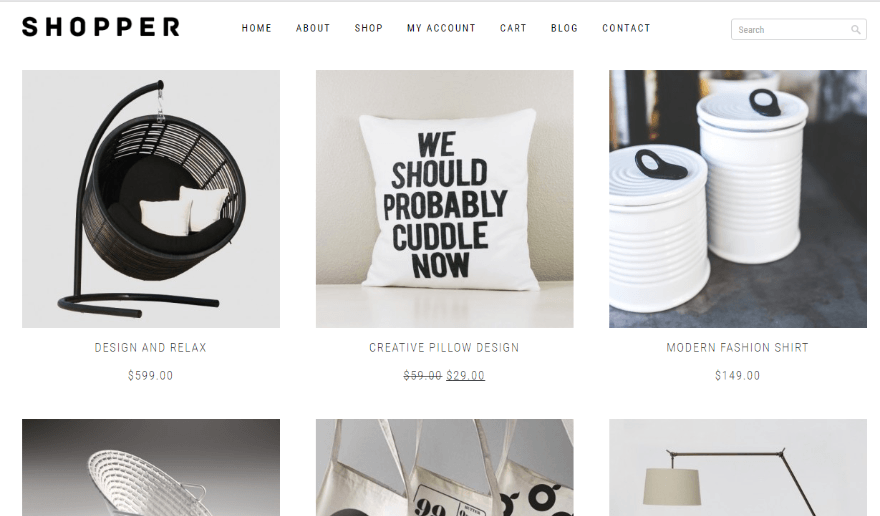 Shopper is a free WooCommerce theme from Dessign. Of the free themes out there, I'd say it has one of the better designs, though you'll miss out on a lot of the added functionality offered by premium themes.
Key Features:
Minimalist design
Fully responsive
Grid-style homepage
Price: Free | More Information
17. Westy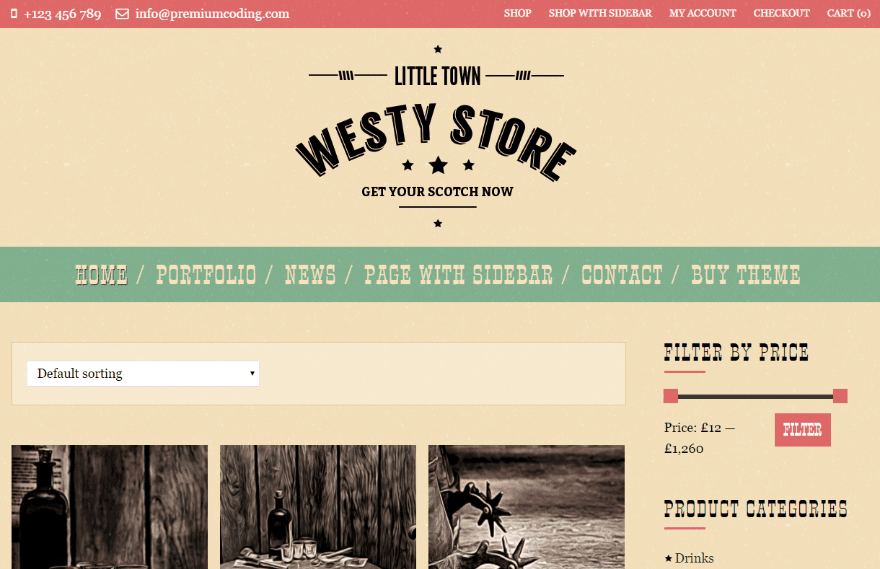 Westy is not for everyone. It has a very unique "Wild West" design that will only work for certain aesthetics. But if your eCommerce store fits, it's a perfect match! In addition to the neat Cowboy styling, you also get Ajax loading, the Aqua Page Builder, and more.
Key Features:
Unique Wild West theme
Built-in Aqua Page Builder and Revolution Slider
Ajax loading
Fully responsive
Price: $39 | More Information
18. Organic Shop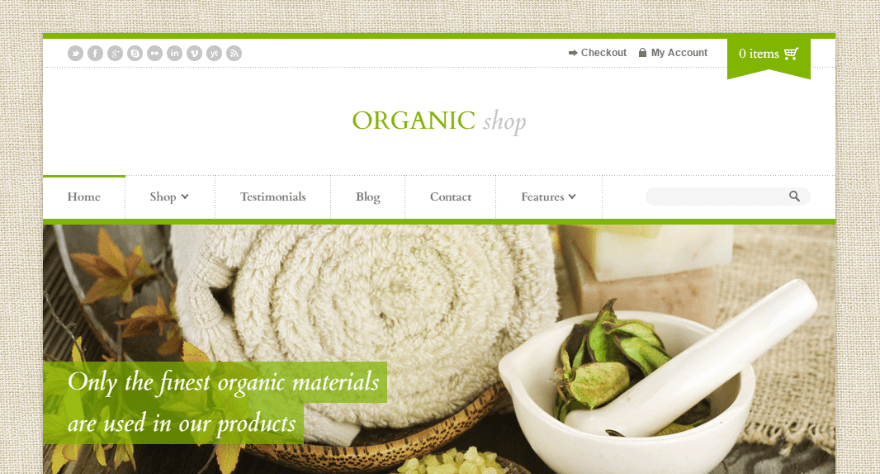 Okay, let's get back to more mainstream styling! As you can guess from the name, Organic Shop is designed for eCommerce stores selling "thrifty, organic, spa & beauty related products". But while the style definitely does fit those uses, you're by no means limited to them.
Key Features:
Unlimited color schemes
Demo content for homepage and contact page
Integrated with Google Maps and Flickr
Includes .PSD files
Price: $59 | More Information
19. Atelier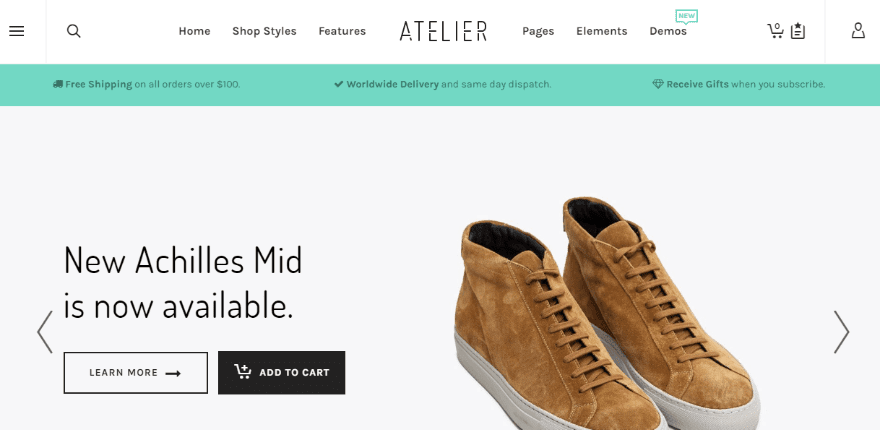 Atelier is a popular WooCommerce theme that comes with a bevy of demos and features. In addition to its WooCommerce compatibility, it also works with Easy Digital Downloads to create a digital download store.
Key Features:
14 different demos
Multiple product views
Mobile-optimized shopping
Drag and drop header builder
5 different shopping cart animations
Price: $64 | More Information
20. XStore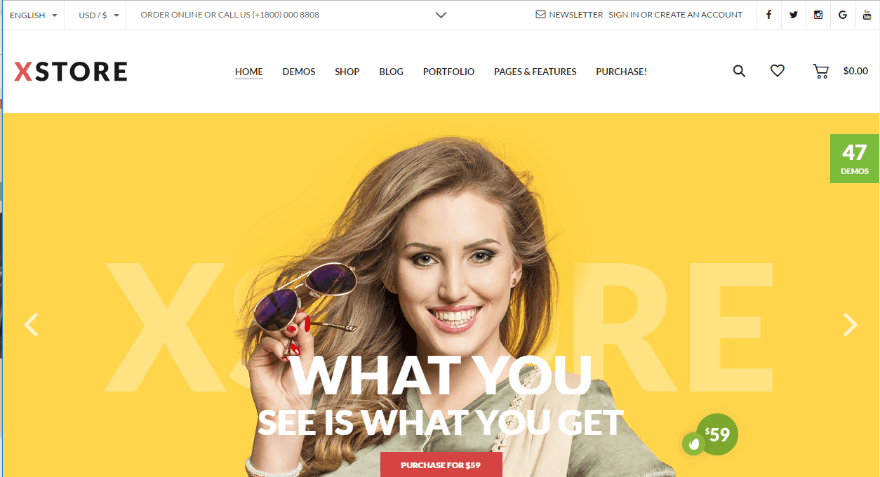 In addition to its stylish aesthetic, XStore ships with over 40 different shop demos. No matter what you're selling, you can probably find an XStore demo that fits your products! You also get tons of added value with included plugins like Visual Composer, 360-degree product views, and Like 2 Discount coupons.
Key Features:
40+ store demos for a variety of different uses
Built-in Visual Composer and lots more included plugins
All .PSD files are included
Catalog mode
Tons of header styles and product page layouts
Price: $59 | More Information
For Elegant Themes Members
Already an Elegant Themes member? If so, you have access to two great WooCommerce compatible themes as part of your membership.
Divi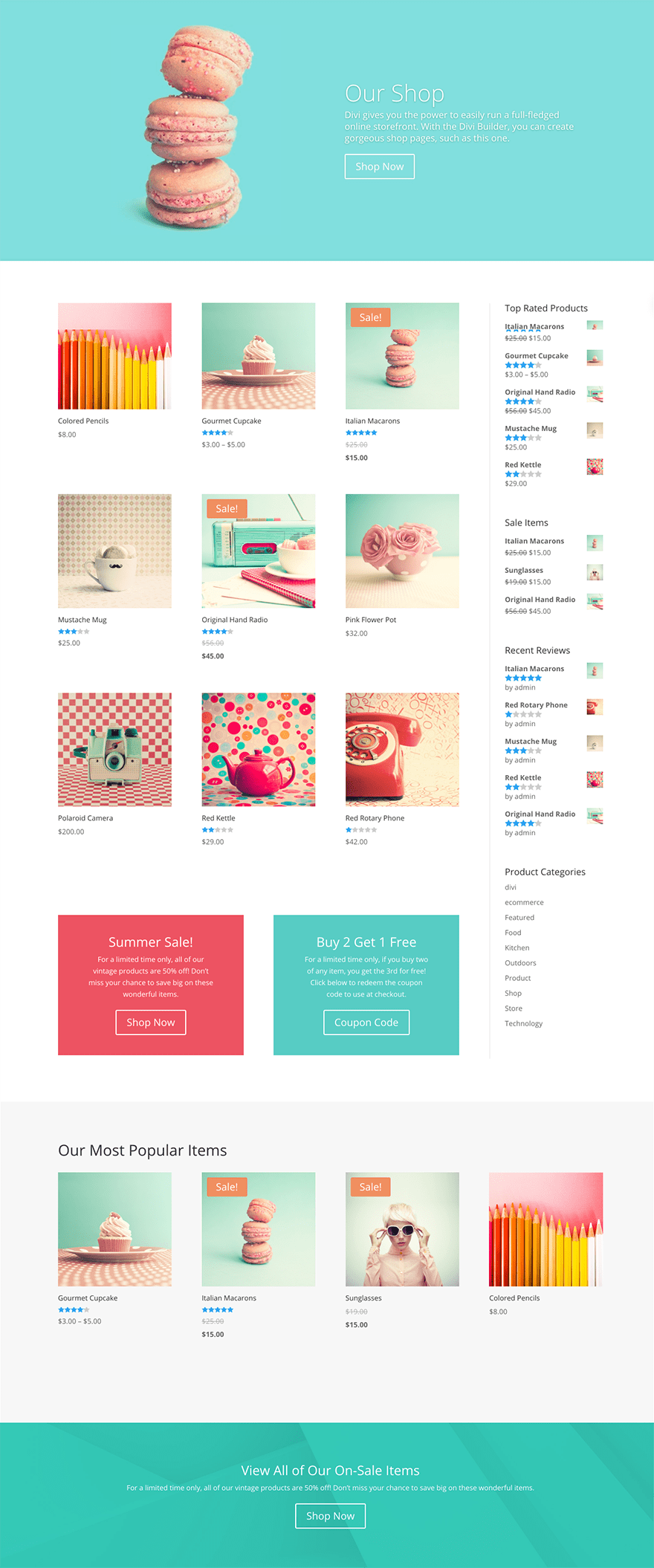 Did you know that Divi is fully WooCommerce compatible? You can even find tons of Divi WooCommerce child themes that make it easy to launch a store with Divi.
And if you're looking for a quick way to get started with Divi and eCommerce, we wrote a whole guide on that subject.
The Divi Builder even includes a dedicated Shop module that makes it easy to include products in your Divi designs.
Finally, if you're looking for a little Divi eCommerce inspiration, you can check out some of the coolest eCommerce sites built on Divi.
Extra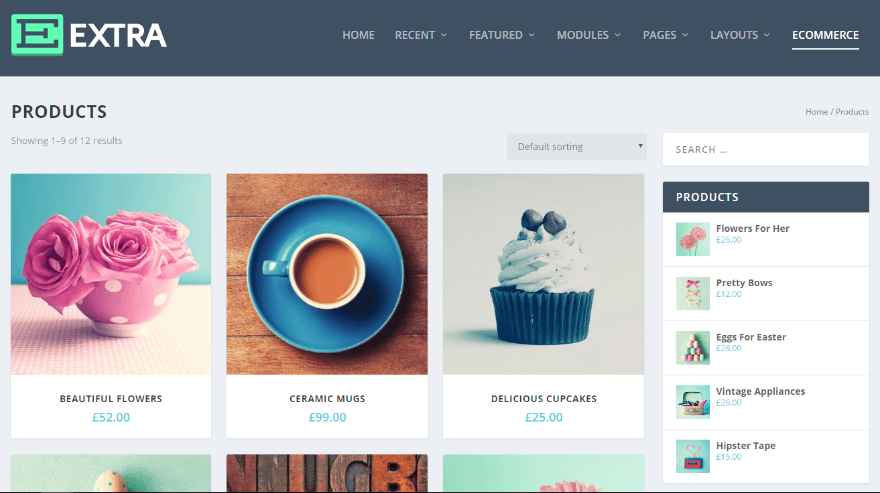 Divi isn't the only WooCommerce compatible option at Elegant Themes! We also put a special emphasis on the WooCommerce functionality in Extra. Extra lets you create a gorgeous WooCommerce shop as either a standalone site or part of a larger site.
Wrapping Up
I hope my list of the best WooCommerce compatible WordPress themes gave you some helpful suggestions for your store! There are a ton of beautiful WooCommerce themes, so this list is certainly not comprehensive. But I tried to provide you with a bunch of quality options, as well as a few quirky ones like that Wild West themed design!
And if you're already an Elegant Themes member, both of our flagship themes are fully WooCommerce compatible – so you can bring the power of Divi or Extra to bear on your next eCommerce store.
Have you used any of these themes to build an online shop? Did we miss your favorite? Feel free to share below. 
Article thumbnail image by Bluehousestudio / shutterstock.com