What goes in the footer? I hear this question a lot. Footers are often ignored. They're the last thing reader's will see, so they're the last thing that gets any kind of attention – even from busy developers. It makes sense. However, the footer is more than just a place for your copyright notice and login links. The footer is still prime real estate in a WordPress site. It's very usable and customizable.
Most readers usually do not pay attention to the footer. Usually readers won't make it that far down because they assume that the footer just contains links to other content on the site and those same links are usually at the top of the page. They will scroll until they're almost there and then scroll back up. If it's a long page, they might scroll on down to look for a button to get them back to the top so they don't have to scroll by hand. They also might look for some navigation buttons.
Footers usually have very low click though rates (CTR). This is partially due to the idea that most readers don't get down that far. They do go below the fold, but they probably won't go all the way to the footer. For this reason, developers tend to leave the footer basic. They save it for last and everything that gets placed there is either an afterthought or just more of the same.
Instead of more of the same, you can surprise your readers with something more creative. Reward your readers with something shiny. Once they discover the shiny, they will visit the bottom of the page more often and the more of your content they will see. Better yet, they'll visit because it's useful.
This article will look at 7 (well, maybe more) creative ways you can use the footer of your WordPress site to your advantage.
First, the Must Haves and the Standards
These are what visitors are used to seeing in the footer. Some are what they expect to see – and many would argue should be there. Others are what is usually found there just because. You might decide to keep these elements (in the case of navigation links you probably should keep them). If you do, you have a few options to do them a little more interestingly.
Don't get so creative that you ignore what readers need. Your site's footer still needs to have the basics. It still needs your primary navigation links:
Home
About
Contact
Blog
Store
Portfolio
Your readers will visit your footer expecting these links. They want the convenience of not having to scroll all the way back to the top just to click on one of these links.
However, you can present them in a creative way. It doesn't have to look dull or boring. One interesting way to do this is by using shortcodes to create buttons. We'll take a look at Elegant Themes' shortcodes and how to do this a little later. Probably the best choice is to use a plugin that places your links there or to create your own hyperlinks.
Your Best and Recent Content
It is common to see a list of the most popular and/or recent content. This is usually a list of 5 posts. It works better for blogs than business sites. You can use shortcodes for these as well and place them in tabbed boxes. Again, we'll see this later.
Placing your best and recent content in the footer isn't a requirement. It is okay to forego these links for something more interesting.
Social Media Links
The footer is a great place to provide one last chance for your readers to follow your social media efforts. This is a perfect place for a plugin such as Monarch.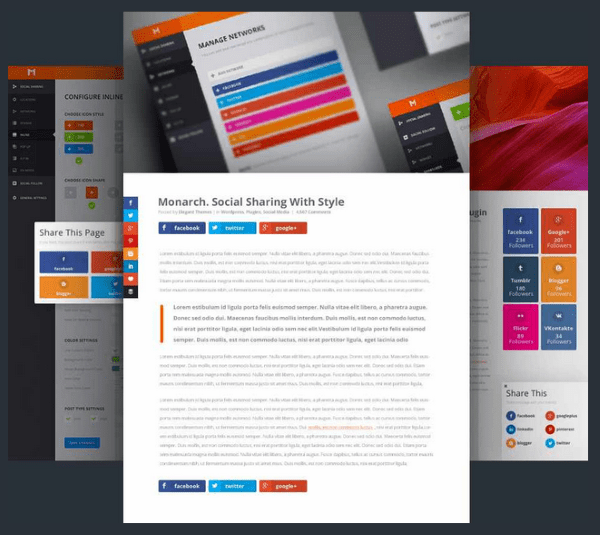 Monarch is Elegant Themes' powerful social media plugin that comes with a widget that can be placed in the footer. It connects with over 20 networks and can be placed on many locations including on images. It also has 3 popup and fly-in triggers so your visitors will get one more chance at sharing your content. It also has several button shapes and hover effects. It includes a dashboard that shows statistics about how your visitors are sharing your content. It's easy to use, is responsive, and looks great in the footer.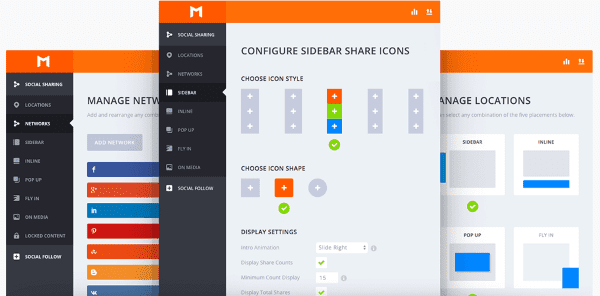 Speaking of social media, the footer is also a great place to show off your social proof. This lets your visitors know that they're in great company. It helps in building your credibility. This is especially true if you're selling a product or a service. By having social proof it shows potential customers and clients that others have already invested in you and had a great experience – so great that they felt the need to share their experience with their own social networks.
Monarch does this as well by showing the number of shares your page has had. This also show readers that this content is worth sharing, so it will help influence them to share as well.
Monarch is part of the $89 per year Developer plan, which includes access to all themes, plugins, layered Photoshop files, perpetual updates, and premium support.
Social Proof from Your Portfolio
And speaking of social proof, you can also include images of your client's logos in your footer. This will show potential customers and clients who has already invested in you. As an example, if you go to the site of two web-developers and see that one has logos of IBM, Microsoft, and Apple as examples of their clients, and the other has none, you immediately think the one with the logos is more reputable. Showing these icons in the footer is a great way to display this.
Of course it doesn't have to be clients. It can be news-media where your work was featured, too.
How to Add Them
There are several ways you can add icons to your footer. You can use HTML in a text box and point the image source to your image. It would look like this:


Another option is to add the logos to a single image that will show across your footer. You would create the image, or banner, in an image editing program like Photoshop (or our favorite) and place it in the footer of your theme using HTML. For example, in the Twenty Twelve theme, your HTML could go in footer.php after