With WordPress's background as a pure blogging platform, the timeliness of posts has always been of interest to website visitors – the more recent the post, the more reliable the contents.
Despite this, online audiences aren't only interested in your latest content. Many visitors will spend hours, happily browsing through your blog's back catalog of posts. And, because WordPress automatically dates your posts, visitors can follow your blog's progress in its entirety – where you came from, the direction you took, where you're currently at, and where you're heading.
This allows your audience to jump in and out of your posts, looking for the sections of your blog's history that are most relevant to them.
For example, if your blog has one thousand visitors/month, can you really relate to every strategy listed on a blog with ten million/visitors per month? Perhaps, but most likely not. If you could go back through the blog's archives to a time when it too had one thousand visitors, however – now that information is very relevant!
This highlights the importance of your old content and your history, and why you should be proud of your blog's evolution and growth.
Sold? Then you're probably looking for an interesting way to share your history of growth, right? Well, how about using a timeline view — a strategy popularized by Facebook's timeline display.
If that sounds good to you, stick around; today, we're going to be looking at a few of the best WordPress timeline plugins.
Two Types of Timeline Plugins
Although there are probably countless different types of timelines you can add to your website, in this post, I want to focus on just two:
Dynamic content timelines
Static "announcement" timelines.
Allow me to clarify.
The first type, dynamic content timelines, is relatively easy to explain. Plugins in this category pull your blog posts dynamically into the timeline, offering your visitors a different way to browse your archives. Visitors can jump forward or backward to see content published at a particular point in time.
Although WordPress already publishes posts in reverse chronological order by default, a content timeline plugin simply offers something different – something interactive and far more eye-catching than your typical list of blog posts. This makes it an excellent way to differentiate yourself from the competition.
The other type of timeline, static "announcement" timelines, allows you to mark important dates in your history, and place them on a fixed timeline. As such, they're best suited to About pages, as they show visitors how your journey has progressed. These "fixed" timelines needed to be constructed manually, rather than pulling content automatically from your blog.
Which WordPress Timeline Plugin is Best?
Now that we've (very briefly) covered the two types of timeline plugins, it's time to introduce the plugins themselves. Without further ado, here are five of the best WordPress timeline plugins, in no particular order.
Content Timeline ($16)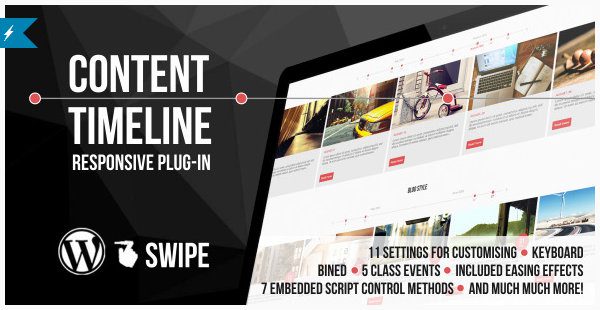 If you're looking to display your content in a stylish timeline view, look no further than Content Timeline – the plugin is available from CodeCanyon for just $16.
The plugin displays your content in interactive, slider-style grids. Users can use navigation buttons to scroll through your content, or click on a date on the timeline to move to a specific point in time. Visitors can then jump directly to a post by clicking a Read More button, making it a great way for them to navigate your website.
One of the plugin's major strengths is the amount of customization options available, allowing you to craft timelines that match the rest of your website – they look fantastic, too! You can configure the size of each post's thumbnail, the timeline width, and scroll speed, for starters.
You can also choose to display a preview of the content (or not), which allows you to create a timeline suitable for either blog posts or portfolio items. The plugin supports four "styles" of timelines, too – flat, dark, light, and cards.
If you want greater control over which content is featured on your timeline, you're in luck; Content Timeline lets you add posts by category. The plugin also supports an animated preview feature, and, when you're finished, you can add the timeline to your website using a simple shortcode.
As an added bonus, mobile visitors can navigate your timeline using a swipe motion – pretty cool, huh?
Visual Composer Extensions ($18)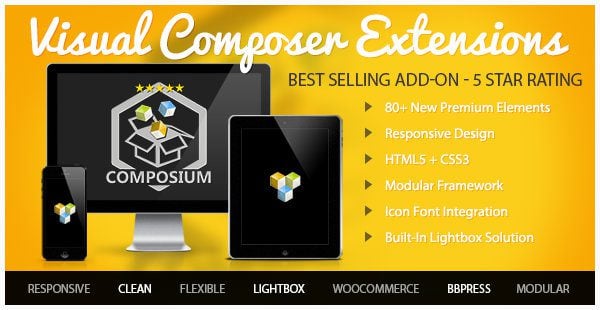 Next up, not a plugin but rather a plugin extension. (To use this plugin, you will also need to install CodeCanyon's best-selling plugin of all time, Visual Composer.)
As well as adding timelines, Visual Composer Extensions supports over 80 premium modules. And, at just $18, this plugin represents exceptional value for money.
For the purpose of this post, however, let's focus on the timelines.
The Visual Composer Extensions timeline element is probably best suited to an About page. Rather than displaying your content in chronological order – a la the Content Timeline plugin, above – the timeline element allows you to produce static, vertical timelines. In my opinion, this would work best for listing the history of your company, highlighting your most important milestones.
The timeline element comes with three styles, though, and all three look clean and modern. You can add an image or icon at each point on the timeline, allowing you to really enhance the style of your timeline.
Overall, a nice additional element for anyone looking to build a custom layout for their website.
WordPress Timeline Slider ($18)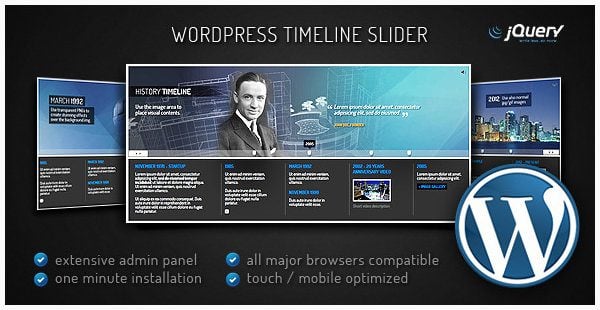 Another timeline builder best-suited to an About page, the WordPress Timeline Slider plugin allows you to build beautiful, boxed timelines. It's ideal for documenting the history of your business, and marking the significant steps along the journey.
The boxed timeline is effectively split into three – images at the top; details of the milestones at the bottom; and an interactive, draggable slider in the middle. As visitors scroll through your timeline, they're able to click to activate a stylish, built-in lightbox, which can display either text, image galleries, or videos.
You can add an unlimited number of milestones and images to your timeline slider, plus the plugin also boasts a built-in audio player. The plugin is easy to configure at the back-end, with a simple admin panel listing all the customization options – these customization options include a light/dark skin, custom background pattern, and timeline dimensions.
You can add your timeline anywhere on your website – it's as easy as copying and pasting a shortcode. The plugin is also jQuery powered and fully responsive.
Timeline Express ($39)

Built by developer Evan Herman, Timeline Express is one of the better WordPress timeline plugins out there. It's priced a little steeper than the other plugins in this list – $39 for a single site license. However, with plenty of powerful premium functionalities, not to mention a year of priority support, it's well worth the extra money.
The plugin lets you add your content to an interactive vertical timeline. As visitors scroll down the timeline, stylish CSS animations reveal the different posts. You can customize the color of each point on the timeline, and also choose a font awesome icon to highlight each one. For added style, each point also displays a thumbnail image.
You can build an unlimited number of timelines, and also add an unlimited number of points. Unlike other timeline plugins, Timeline Express includes a content filter for visitors to use. This allows you to add multiple categories to a single timeline, with visitors able to filter out the content of little interest.
If you want to test out the plugin's features, a Lite version of Timeline Express is available for free from the WordPress repository.
Final Thoughts
And with that we're done; a quick journey through the very best timeline plugins that WordPress has to offer.
Not only are these timeline plugins quick-and-easy to setup, but they also produce fantastic results. The timelines are certainly stylish and eye-catching, plus they provide visitors with a unique way to navigate your content, or to learn more about your history.
Compared to most categories of WordPress plugins, there are actually relatively few timeline plugins available. In my opinion, this gives you the opportunity to try something that not many webmasters are taking advantage of.
So check out a few of the demos, make sure the plugin is fit for purpose by testing out its features, then give one of them a try!
Do you use timelines on your website? Which plugin do you use? Share your thoughts and experiences in the comments section below!
Article thumbnail image by BoBaa22 / shutterstock.com