Starting from version 2.1, WordPress has aimed to ship a new release every three to four months, and one release per year comes bundled with an exciting new default WordPress theme.
The arrival of a new default theme is always one of the most interesting points of the year and it's fascinating each time to see what the WordPress design team have come up with.
One huge plus point of default themes is that they tend to work flawlessly out of the box. They also, more often than not, suggest the direction that WordPress is heading in.
In this article we'll take a trip down memory lane with a review of all the major default themes to date, before finishing up with a look at what to expect from Twenty Sixteen prior to its arrival.
Let's start with a look at why we have annually changing default themes to begin with.
What's the Point of Default Themes?
WordPress was first launched in 2003 and, from 2005 up until 2010 (when Twenty Ten shipped), the default WordPress theme stayed pretty much the same.
Times, tastes and technologies naturally change over time, so what looked fresh and modern in previous releases can seem a bit tired these days (to say the least). As Jen Mylo wrote on the WordPress blog back in 2009:
Custom header, rounded corners, clean design…if you were using WordPress back then, let's face it, you were impressed. Time moves on, though, fashions change, new styles become old standards, and what was once cutting edge suddenly seems old-fashioned and out of date.
Having a new default theme each year has enabled WordPress to keep up with new standards and design techniques while being a great opportunity to showcase new features in the platform itself.
In addition to being a clean, reliable base for many site owners, the release of a new default theme might be hoped to provide some inspiration and help them push the boat out a little when it comes to experimenting with free theme options – premium WordPress themes will naturally live closer to the cutting edge as a rule of thumb.
Regardless of how slick the backend is and the strength of your content, how it actually appears on the web is of course critically important. Default themes are a huge help in getting something professional looking online with minimum hassle. Their ability to show off what the WordPress backend can do (for example the various uses of the Customizer in recent iterations) is also significant.
There's also a fair bit we can learn about what might be coming down the road from looking at default WordPress themes. Take the move towards mobile-first, responsive design we've seen in the last number of years: this preceded the responsiveness of the backend and gave a clear indication that sites simply had to be mobile-friendly in the future.
Fast-forward a touch and Google announced it was now including mobile-friendliness in its algorithm in response to an ever-growing proportion of web access from mobile browsers. We're not suggesting Twenty Fourteen or Twenty Fifteen were the cause of any of this but they were certainly ahead of the curve.
To put it simply, examining default themes shows us how we got here and where we are heading. With that in mind, let's delve further into the history of default themes, travelling all the way back to a time when we still used dial-up connections and said "weblog".
A History of WordPress Default Themes
WordPress Classic
Did you know Kubrick wasn't the first default theme? WordPress Classic was actually the look that shipped with pre-WordPress 1.2 editions. And isn't she a beauty? Where else would you find a style.css of only 314 lines? To put that line count in perspective, Twenty Fourteen's style.css contains 4,322 lines of code.
Let's be honest here – nobody is recommending WordPress Classic to clients in 2015. As Google's Mobile-Friendly Test tool diplomatically puts it, "This page may not pass Google's Mobile-Friendly Test."
However, looking back at WordPress Classic serves to reinforce how much styles and possibilities move on at an alarming rate. The theme certainly served its purpose back in the day and would have given you a more than respectable website at the time.
Also, because it only had a few hundred lines of styling code, you could fairly easily make changes if you knew even the basics of CSS. Nowadays, making a tiny change to one link's color can take a surprising amount of deep-diving if you're not familiar with the platform's conventions.
Default (Kubrick)
Another piece of WordPress trivia: the theme commonly known as Kubrick that shipped with WordPress 1.5 was actually called Default.
Despite its imperfections, it feels almost sacrilegious to knock this first "official" default theme. Though the images sometimes didn't quite scale and the overflow for some of the text wasn't spot on, this was a solid theme and still looks aesthetically passable to this day – something that can't be said for most website designs from 2005.
Obviously, Kubrick arrived before the advent of the iPhone, so it's not responsive, but the san-serif typography holds up and its sidebar and clear layout still display content in a relatively accessible way.
Twenty Ten
Times change and fame is a fickle friend; Kubrick had a good run but was replaced in WordPress 3.0 by Twenty Ten.
The new style included a header image – a demonstration of the fact that we had started measuring internet speeds in megabytes per second rather than kilobytes back in 2005. There was also larger typography throughout, the introduction of the now ubiquitous black top border in a number of places and a snazzy drop-down menu to play with.
The arrival of Twenty Ten coincided with improvements in the WordPress backend. Compared to previous versions, a lot changed with the release of 3.0 and the new look was much closer to what we're used to working with these days:
Widgets were now a feature, meaning theme files no longer needed to be edited to change the sidebar and custom headers were now substantially simpler to implement. It was even possible by this point to start customizing the theme entirely without code to a limited extent by using the backend background color picker.
Twenty Ten wasn't responsive: Android was only at version 2.2 at the time of release and mobile traffic was still picking up relatively slowly. That caveat aside however, Twenty Ten still holds up well as a simple blogging theme even today, and set the stage well for future releases.
Twenty Eleven
Twenty Eleven didn't depart greatly from its predecessor in design terms. The tagline went to a more reasonable place, and a nicely styled search bar was introduced in the header. A lot more was going on behind the scenes however.
Twenty Eleven brought much greater HTML5 compliance to the default theme and allowed for wider user control over styling with options for page layouts, customizable colors and an additional "dark" color scheme.
The striking header image remained as an option, although this year it could feature several images and randomly select one to show on each page – pretty cool stuff by 2011 standards.
Twenty Eleven was also the first default theme to push the boat out with widgets. The theme came with three extra widget areas in the footer, bringing the total number up to four.
It also came with its own widget – the Twenty Eleven Ephemera – and a custom page layout for showcasing work. Speaking of pages, the post editor was first custom styled with the arrival of this theme, making editing from the backend more closely resemble front end content.
Twenty Twelve
The first ever fully responsive WordPress default theme, Twenty Twelve highlighted two main trends in WordPress and beyond.
Firstly, it signified WordPress' move to being much more of a full-blown CMS rather than simply a blogging platform with pages. Around the time of its release, the Links section of WordPress Core was decommissioned. Twenty Twelve looks and feels much more like a website that could feasibly function without a blog, strange though that thought of a blogless website may be to some!
Secondly, the simplicity and responsiveness of Twenty Twelve highlighted the rise of the mobile web. Mobile devices at the time weren't quite capable of the full-fledged browsing we enjoy now and the standard header image was sacrificed as a default, though it remained an option within the theme. Mobile browsing was very much on the move towards its current dominant position and the mobile-friendly, simple layouts and colors of Twenty Twelve were testament to this trend.
On the backend, there was little you could do with Twenty Twelve that wasn't already possible with Twenty Eleven. If anything, with only one color scheme and fewer color change options, possibilities became slightly more limited.
Twenty Thirteen
Offering one of the more significant aesthetic changes in default themes, Twenty Thirteen remains one of my personal favorites on our list. It stayed responsive while massively increasing the amount of options that could be easily changed. It also, impressively, managed to suggest it could be equally easily deployed on a variety of different websites, not simply on blogs.
Twenty Thirteen's typography was distinctive and pleasurable to read while its footer widgets were wonderfully spaced – the first time we'd seen the footer house the primary widget area. The post sidebar was relegated to a secondary position.
Perhaps unsurprising given its relative youth, Twenty Thirteen is probably the most likely candidate in all the themes we've looked at so far for being used on a new site today. Given the right type of site, it still looks great and there's an obvious benefit there in terms of its proven stability at this point.
Twenty Fourteen
Twenty Fourteen was another big departure from anything we'd seen in previous default themes, turning a WordPress installation into a different beast entirely with its magazine-style presentation.
It showcased images throughout, whether in the background with its return to a fixed maximum content width, featured content grids and sliders – both set up through the Customizer – or through the heavy emphasis on Featured Images across the theme.
The layout was extraordinarily clean and introduced a lot more advanced styling for mobile devices with multiple moving sidebars and its folding menu.
Twenty Fourteen brought the default theme somewhat back to blogging but also recognised that blogging had changed since the days of the Kubrick-inspired Default theme. No longer are blogs mostly the haunt of a single writer. Sites are increasingly worked on by multiple contributors and the magazine style employed suited many such blogs.
As in Twenty Thirteen, the main disappointment for some was in the lack of color or font choices available from the Customizer but the defaults chosen by the theme's designers were undeniably suitable for purpose – very clear to read and easy to browse.
Twenty Fifteen
Twenty Fifteen is stylishly minimalistic and works a treat on mobile devices as in the tablet view below.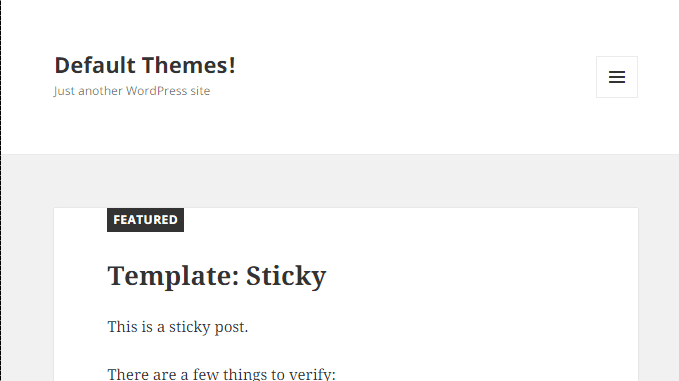 More than most of the default themes we've discussed, Twenty Fifteen aims very squarely at a blogging use case. It returns to having one widgetized area and only one main menu, although it does turn a second set of social links into pretty icons.
There are advantages that come with simplicity of course, one being the level of color customisation it allows. Twenty Fifteen comes with a predetermined set of color schemes and the user can select from these to make striking changes. This is easily achievable via the Customizer, Twenty Fifteen having been very much built with that particular feature in mind.
The way that the sidebar and header are interchangeable is fun in this theme but that's by no means all it brings to the table. The typography is also quite different to previous default themes, more elaborate and with greater padding.
Again, this recognises changes in the way people use WordPress. Whereas blogging back in the day was often very long-form content, writers these days are competing with social media and often aiming to keep the attention of their audience with shorter, snappier sentences. Such is the way the Web has developed, and WordPress is showing it can keep up.
The Future: Twenty Sixteen and Beyond
And now for a glimpse into WordPress' future – let's take a look at the new Twenty Sixteen theme!
A quick word of warning: this theme isn't fully finalized and and hasn't yet been included in a WordPress release. That's almost certain to change obviously, perhaps even by the time you read this. We should still be able to take a pretty good look at what the theme is capable of right now though and what it more broadly signals for WordPress over the coming years.
As you'd expect, Twenty Sixteen is a default theme that looks superb when browsing on mobile. In many ways, it seems a combination of its two most recent predecessors and looks to be aiming for a nice balance between being a clean, mobile-first blogging theme and incorporating some of the more advanced features of Twenty Fourteen. Even the fonts chosen seem like a compromise between the modernity of Twenty Fourteen and the unique minimalism of Twenty Fifteen.
It's clear straightaway that the theme ticks all the right boxes for blogging. Multi-user blogs are helped out by its prominent space for displaying author meta details in each post. Featured images for posts are also well catered for but not as prominent as they were in Twenty Fourteen. This makes sense in the context of offering slimmed down blogging options for mobile but it's not also not hard to envision a more complete version with expanded layout options which could be useful for more page-based sites – time will tell how much we'll be offered.
Like Twenty Fifteen, Twenty Sixteen comes with plenty of color customization options, including several built in color sets like this delightful (erm…) yellow:
Several other items will seem familiar for those used to Twenty Fifteen, with the menu arrows on the mobile version and page and post navigation (though the latter doesn't look completely finished) being just one example.
The single widget area and two of the menus (main and social icons) are also the same in both themes. Users of Twenty Fourteen's Content Sidebar will also note some similarities in the style of the only widget area in Twenty Sixteen.
Personally, I'm not quite sure I'll be looking to use Twenty Sixteen for anything in production any time soon. I've still to be convinced that it completely hits the nail on the head with its apparent attempt to reconcile good old fashioned blogging functionality and the newer more CMS uses of WordPress. That could well be because we're not yet looking at a finished version though. We'll just have to wait a little bit longer to find out what exactly they do to make the default WordPress theme even more awesome before release.
On first glance, for an increasingly mobile Web and with the wide range of use cases WordPress is expected to cater for these days, Twenty Sixteen looks like it's going to put in a solid shift for the years ahead.
What Can We Learn from WordPress Default Themes?
Default themes can't tell us everything about the way the platform or the wider web are heading of course but they certainly offer some useful pointers on a consistent basis.
Keeping an eye on latest developments in default theming keeps you up to speed on stylistic trends but it also gives valuable insight into new functionality and how and why users interact with the platform.
Mobile-first design in default themes began around the time WordPress' admin was also going mobile. This was in response to wider online trends of course but shifting to responsive as early as 2012 in such a big way put WordPress well ahead of the curve. Many other platforms are still struggling with making that particular leap.
One current trend to keep an eye on is increased focus on the Customizer as WordPress Core moves its functions out of the traditional Appearance sub-menus. This is something that the default theme can, and presumably will, be used to influence.
It's a subject that's attracted controversy in the community but the core team seem decided it's the way forward.
Conclusion
Default themes are robust and usually visually attractive but they also tell us something about what is coming down the road for the platform. Staying up to speed on their development is worth it whether you're a developer, designer, site owner or mixture of all three.
We've covered the history of default theme development in its entirety here and taken a peek into the future with the imminent arrival of Twenty Sixteen. We hope you've enjoyed the ride and been prompted to explore the functionality on offer in some of the recent default releases for further inspiration.
Before we wrap up, we're curious to hear your thoughts on Twenty Sixteen and the road ahead. Do you have plans to put the new default theme into production or will you be taking some time to kick its tires first? Get in touch via the comments and let us know.
Article thumbnail image by tandaV / shutterstock.com.