Imagine meeting a prospective client about a new website development job. The project is ambitious, but you know you're the right person for the role. The client is perfect; friendly and realistic, plus they would add a lot of pedigree to your resume. Best of all, the money is good – great, in fact.
The meeting goes fantastic and you realize you're about to close your very first major client. The client shows his hand saying, "Just give me your email address and I'll send the details and the contract across."
This is pretty much the dream scenario, right? Now I want you to imagine how this scene might play out based on which of these two responses you give the client.
Both are valid email addresses, but they elicit completely different responses, don't they? If you have serious ambitions to land this high-profile gig, the Gmail one just doesn't cut it – it's unprofessional.
As you'll quickly realize when running a small online business; professionalism is King. Clients need to know that you can not only do the job, but also that you can deliver on time, on budget, and with the minimum amount of hassle.
A dedicated business email address – one that ends in your domain name – might not land you the job, but it certainly won't cause clients to lose confidence in you. As such, it's an important piece of the puzzle. Everyone should have one, and, if you don't already, get one now!
However – and I speak from personal experience here – business email addresses are a nuisance to maintain. I access my business emails via my hosting company's email client. The clumsy UI makes this feel like a huge chore, and sometimes this results in me missing important messages. This is a big problem when email is my only line of communication with my clients.
Contrast this with accessing my personal email using Gmail, which I find far more convenient. Despite the relative unimportance of the emails I receive, I still find myself checking my emails four or five times a day. When it comes to email, Gmail wins for me, hands down.
If only there were a way to check my business emails with Gmail… Well, now there is! Today, I want to show you how to setup a business email address ending in a custom domain using Gmail. Before you can achieve this, though, you'll need to sign up for Google Apps for Work.
What Is Google Apps for Work?
Google Apps for Work is a cloud-based productivity and collaboration tool. It is a premium service, costing from $5/month/user if you're in the US. Prices vary by country; for example, UK users face charges from £3.30/month/user.
Subscription grants you access to the entire Google Apps for Work suite. Within this suite you'll find many of Google's most useful and well-known applications, including:
Gmail – handle business emails using the familiar Gmail client.
Calendar – organize meetings and sync your team's schedule.
Drive – store and share files in the cloud.
Docs – share documents in real-time with your team.
Sheets – build, share, and edit spreadsheets with your team.
Slides – create professional, PowerPoint-style slideshows.
Sites – launch an intranet-style resource for your business.
Hangouts – conduct HD video conferences and group chats with team members.
As you can see, the full suite provides the complete infrastructure a small business needs. However, the purpose of today's post is to walk you through the steps necessary to create a business email address using Gmail. First, let's dig a little deeper.
What Are the Benefits of the Paid Version of Gmail?
With so many great email clients available for free, what could possibly persuade you to open your wallet and spend your hard-earned cash?
Well, as we've already touched on, the primary benefit of premium Gmail is custom email addresses – emails ending in your domain name. This means you can send and manage your emails using the excellent Gmail interface while still retaining an aura of professionalism.
A free Gmail account comes with 15GB of storage. If this isn't enough, the paid version of Gmail expands this capacity. The Base subscription (costing $5/month/user) grants you double the space – that's 30GB of cloud storage. If this isn't enough, simply upgrade to a Premium subscription for $10/user/month (or your country's equivalent), and receive unlimited cloud space.
Users can also create up to 30 email aliases. This makes it ideal for small businesses, where one support staff might handle all business emails – you can maintain multiple email addresses, but you won't end up paying through the roof.
Want more? Premium Gmail guarantees 99.9% uptime, round-the-clock support, and zero ads. It also offers migration tools to help you move your email system across from other popular services, such as Microsoft Outlook and Lotus Notes.
If you want to dip your toes, Google Apps for Work also offers a 30-day money back guarantee.
How to Create a Custom Email Address with Gmail
In this section, I'll walk you through the steps required to setup your new business email address with Gmail.
First, though, you need to sign up for Google Apps for Work. As stated above, you can take it for a test drive with the free trial – this process won't ask you for credit card details either. Just visit the Google Apps for Work website, then click on the green Get Started Now button.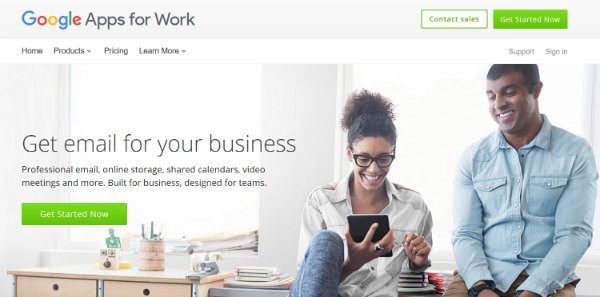 Next, fill out the simple form asking for details about you – name, current email address, business name, business size, etc.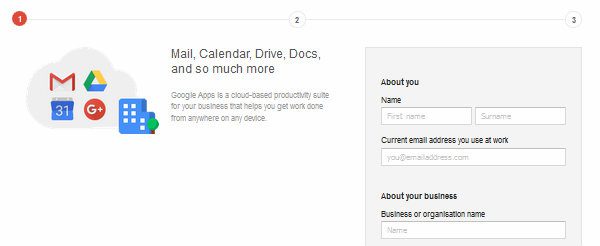 The next step is to confirm the domain you wish to use: do you already own it, or would you like to purchase through Google, with domain prices starting from $8/year. If you're yet to purchase your domain, setting up your email address is super-easy – Google will configure it automatically. However, if you already own your domain (and I'm assuming that's most of you), you will need to prove ownership. Go ahead and input your domain name when prompted, then hit Next.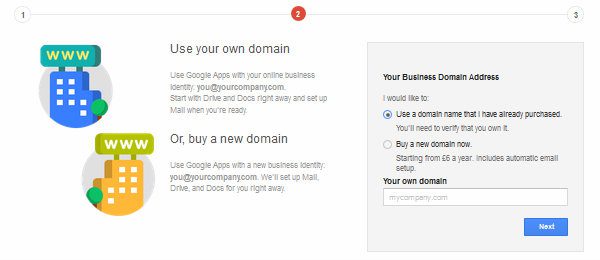 The next screen will ask you to create a Google Apps account using your domain name. Pick carefully, as this will function as your business email address and also your Google Apps admin account. Don't worry, though: you can create new email addresses at a later stage, and the process won't be as cumbersome.

When you're happy with the email address you have created, and you've selected a secure password, click on the Accept and Sign up button. With sign up completed, this is the screen you'll see: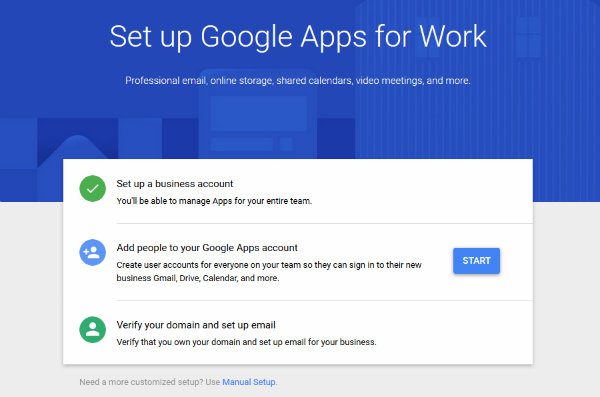 From here, you can begin adding team members to your Google Apps account by clicking the Start button. It's recommended that you add everyone using an email address at your domain during this step. When you're done, check the checkbox then click Next.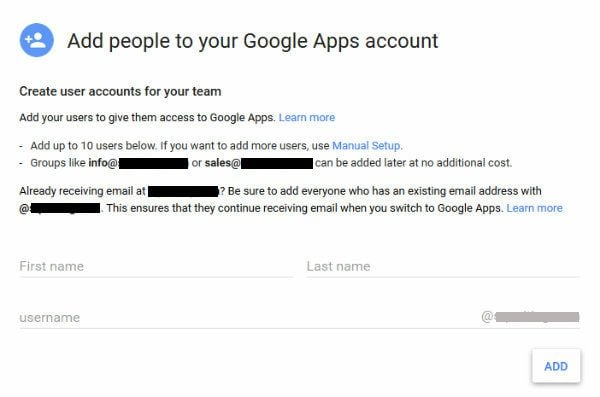 The final step is also the most complicated: verifying your domain. However, this is an important safeguarding feature to ensure that only the domain owner can access Google Apps for Work on any given domain.
The easiest way to verify your domain is to add a meta tag verification code to your site's header. However, if that approach is not for you, you can also upload an HTML file to your site, or add a domain host record. For the purposes of this tutorial, we'll be adding a meta tag, as supplied by the Google Apps sign up process.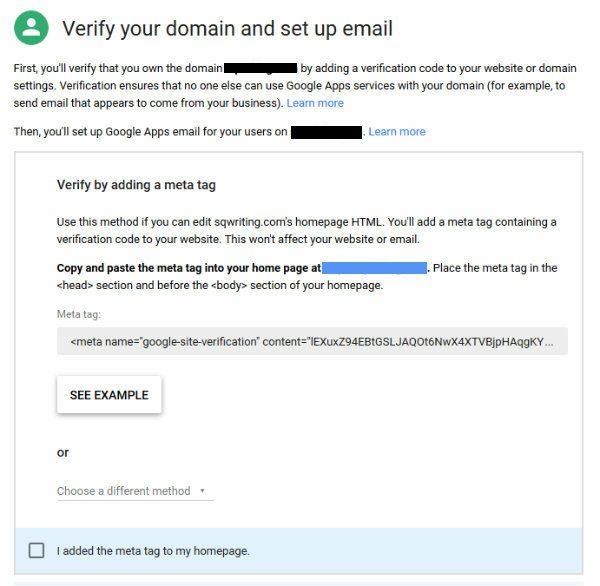 This requires you to login to your WordPress dashboard. Although there are several ways to add a meta tag, the most beginner-friendly option is using the Insert Headers and Footers plugin. To install it, navigate to Plugins > Add New > search for 'insert headers and footers' > Install Now > Activate Plugin.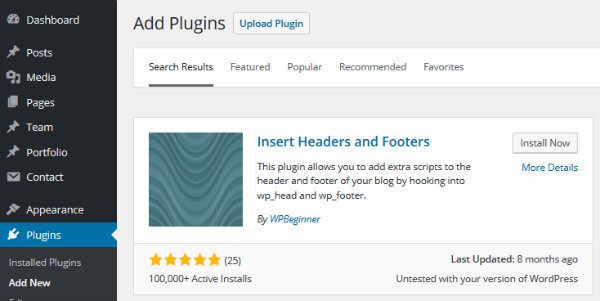 To use the plugin, click through to Settings > Insert Headers and Footers. Now, all you need to do is paste the code into the Scripts in Header section of the screen. When you're happy, don't forget to click Save. Now head back to Google Apps and check the "I added the meta tag to my homepage" box. So far, so good.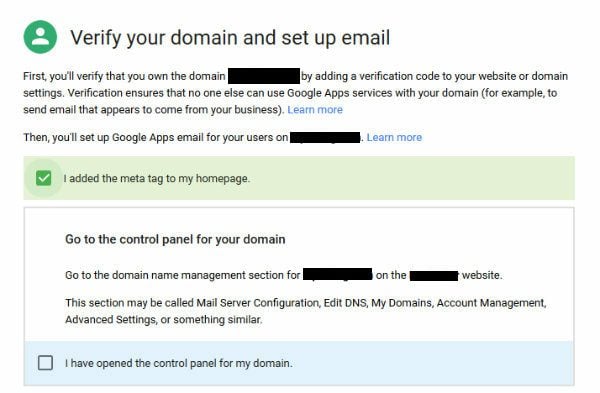 The next step is to configure your domain's MX records. This will ensure your emails are sent directly to Gmail's servers, letting you use the Gmail service with your custom domain. This requires you to access your hosting account.
Now, this process varies from host to host. For those of you using a web host with cPanel, you can continue following along with this tutorial. If this doesn't apply to you, don't worry: Google has provided detailed instructions for over 100 hosting services. Find your host on this overview page, then click through to follow the instructions.
Login to cPanel, make your way to the Mail section, and then click MX Entries. Now select your domain from the drop-down list.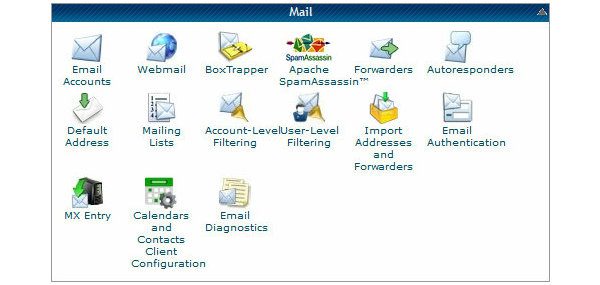 Heading back to the Google Apps setup screen, check the "I have opened the control panel for my domain" box. This will open up a new section, giving you the new MX records you need to supply.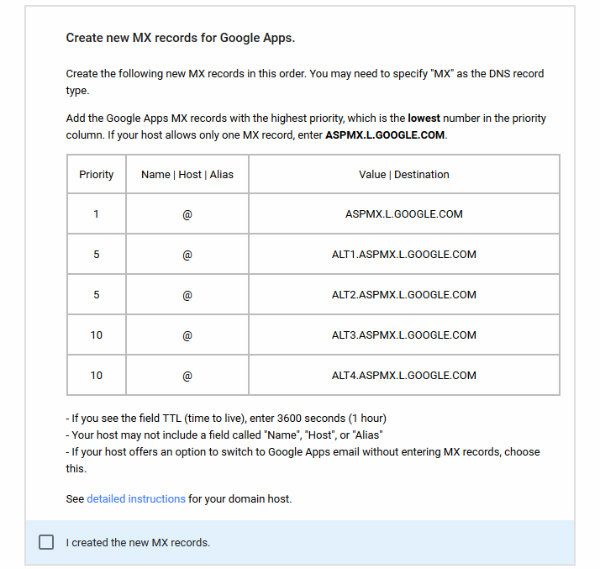 Add these one-by-one to the cPanel screen.

In the Google Apps setup screen, tick the box next to "I created the new MX records." Now you'll need to head back to cPanel and delete any of the existing MX records – any non-Google servers. When you've done this, tick the "I have deleted existing MX records" box.
Next, click "I saved the MX records", then finish up by clicking the blue "Verify Domain and Set Up Email" button.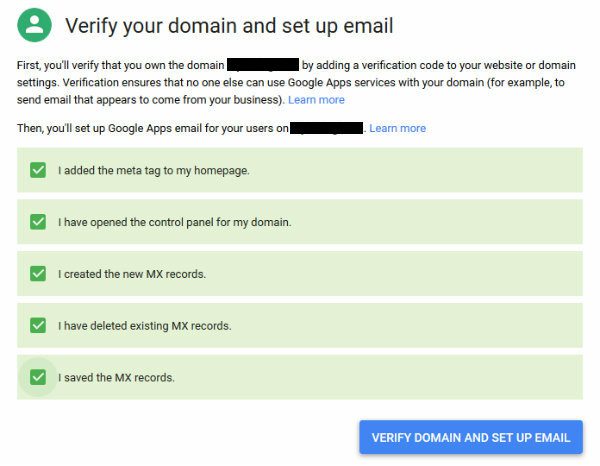 Google will then take a few moments verifying the domain. If all is successful, you'll see this screen: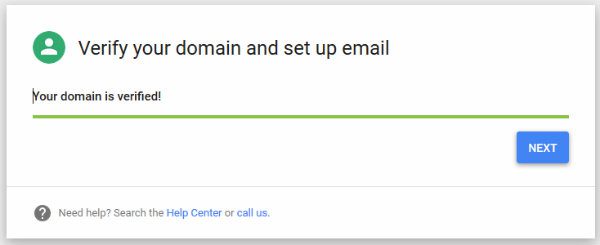 Now you're all done! Google will begin rerouting email directly to Gmail, though this process typically takes 24 to 48 hours – and anywhere up to 72 hours, depending on your hosting provider.
Before you finish, be sure to set up your billing details, so that you can continue using Google Apps for Work after your trial period.
Final Thoughts
And with that, we're done! Now you'll be able to log in to Gmail using your business email address. Once you're logged in, you'll be able to send and receive emails using the familiar Gmail interface.
It might seem like a small thing, but being able to communicate with clients using a professional email address and a user-friendly email platform really will make your life easier. If you disagree, you can easily cancel your Google Apps for Work subscription and go back to your old email client – and the trial won't have cost you a penny.
For me, though, Gmail is my favorite email service, and well worth the $5/month to use the service professionally. If you're using Google Apps for Work and the premium Gmail service, share your thoughts and experiences in the comments section below!
Article thumbnail image by hanss / shutterstock.com