It's official Divi Nation, today we begin daily Divi content here on the Elegant Themes blog. It's been a little while coming now, but we wanted to get it right before launching. I think we've put together a line-up you'll enjoy.
In this post I'd like to introduce you to the concept of Divi Miniseries, which will be our primary vehicle for Divi content moving forward. I'd also like to explain how you can make sure you never miss a valuable Divi tip, freebie, or important announcement.
Here we go!
Divi Miniseries: What to Expect

If you followed along with our Divi 100 series then you probably remember seeing posts like the ones below:
5 Email Opt-in Designs You Can Create with Divi's Email Opt-in Module
5 Unique Ways to Style Divi's Contact Form Module
5 Fantastic Ways You Can Style Divi's Testimonial Module
These posts were a big hit because they isolated one aspect of Divi and showed how with a bit of creativity and the right settings just about anything was possible. However, with five examples in each post–and a 10-25 minute accompanying video–they could be a bit overwhelming. And in some cases we couldn't go into enough detail to fully explain why design decisions were being made or how the code provided actually works. All of which would have added a lot of value.
So we decided to adapt the general concept of these posts into short miniseries of five, seven, or fourteen posts. Where we would only cover one design concept per post, but go into more detail about things like the design concept/inspiration, how to prep your design elements, and the mechanics behind the code snippets we provide. The goal being to keep each tutorial short and digestible while also providing more value.
So what kind of Divi Miniseries can you expect?
Right now we have miniseries in production about all kinds of things. In fact, we're taking a fine tooth comb to everything about the Divi theme and finding ways to explore every nook and cranny with a miniseries.
We've got series in production on:
The Slider Module
The Countdown Timer Module
Building a Portfolio Website From Scratch
Creative Section Background Ideas
Insanely Creative Uses of the Divi Code Module
Customizing the Divi Blog Post Format Templates
Creative Header and Menu Modification
And so much more!
Other Content Types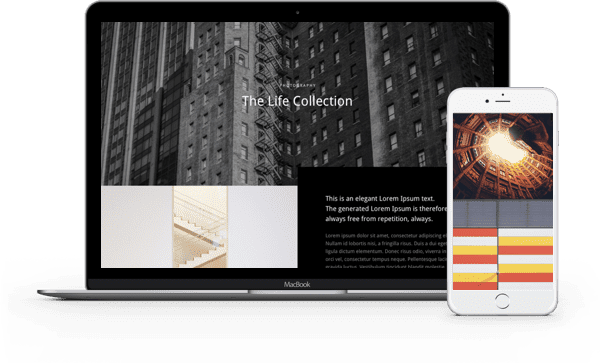 While Divi Miniseries will be our primary vehicle for new daily Divi content, it's far from all we've got planned. There will be lots of new free Divi layout packs and kits, related product highlights (featuring third party developers from the community), Divi case studies, new Divi design challenges, and of course brand new episodes of our Divi Nation Podcast.
Will There Be Extra Specific Content Too? You Bet!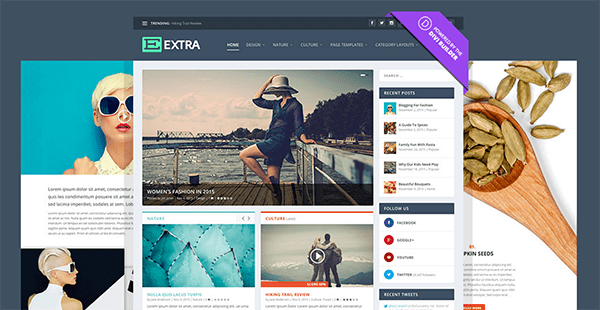 Don't worry, we haven't forgotten about Extra (or our other core products: Bloom, Monarch, and the Divi Builder Plugin). While many of the tutorials and series we release for Divi will be directly applicable for Extra users, we've got some Extra specific miniseries, one-off posts, and even some Extra specific freebies planned too.
We're More Than Open to Requests and Contributions. In Fact, We're Counting On Them!
What this effectively means is that we're committing to publishing 365 more posts per year, just for you–Elegant Themes product users. Our goal is to make our community the most empowered WordPress community on the web. But to pull it off, we're going to need your help.
We need to know what your pain points are, where you need help, what resources would make your life easier, and so on. Trust me, with that much content to come up with, if you submit a useful request we will cover it!
But in many ways, coming up with new post/video ideas is the easy part. What we'd really like to see happen is for you–members of the Divi Nation–to take stock of the lessons you've learned using Divi. Or to record the difference using Divi has made for your business, blog, etc. And then to share that with the community by contributing here on the blog.
I won't kid you though: we have high standards. It's not fast or easy to create this kind of content. But it's really, really valuable to the community. And we recognize that by paying for each and every post we publish. We participate in absolutely zero "guest posting" in the traditional sense of the term.
So if you're up for the challenge and you've got something really valuable (and Divi related, of course) to share with the community feel free to reach out to me at nathan at elegantthemes dot com.
Ok, enough recruiting. Let's talk about how you can make sure you get all this Divi awesomeness every single day!
Make Sure You Never Miss a Thing!
The best way to make sure you never miss a day of our Divi content is to sign up for our special mailing list below. This will put you on our "Daily Divi Newsletter" and you'll get a new dose of Divi Awesomeness in your inbox every day.
id
If you're already an email subscriber to our blog, you can update your subscription preferences by clicking on the "update your subscription preferences" link at the bottom of your most recent blog post email from us.

Then, you'll want to change the option under "Get Divi Resources" from its default of weekly or monthly to daily.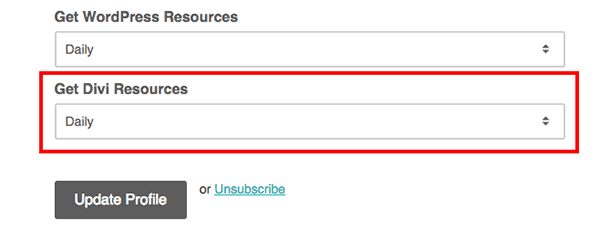 When you've done that, click the Update Profile button and just like that you've got a wealth of Divi goodness coming your way. Every. Single. Day. Starting tomorrow!
Tomorrow, Our First Miniseries Begins: 5 Interesting Ways to Style Divi's Slider Module by Leslie Bernal
We're kicking things off with a great miniseries by community member and new blog contributor Leslie Bernal. She's previously been featured in our customer spotlight series and the Divi Nation Podcast. She's also extremely active in the Divi Nation community on Facebook, at WordCamps, and of course on her own website. And for the next five days she is going to teach us all how to get the most out of the Divi Slider Module. See you there!