There's one phrase every internet user will be horribly familiar with. A set of words they'll have encountered hundreds, if not thousands of times, and that always prompts a brief moment of confusion:
The page cannot be found. The page you're looking for might've been removed, had its name changed, or is temporarily unavailable.
"Did I make a mistake while typing?" you ask. "Is the site down? It was working a few minutes ago!"
For web developers however, 404 errors are not simply small nuisances but rather a leading cause of sleepless nights. Brief downtime or linking mistakes can lead to visitors leaving your site altogether, and a multitude of dead pages can cost you in terms of SEO.
Luckily there are a large number of WordPress plugins dedicated specifically to solving this problem. However, before we discuss the leading candidates, let's start with a brief word about 404s.
Some Background on 404s
We'll get into our list of recommended tools shortly, but first it's worth mentioning some useful resources relating to the subject of broken links:
With those pointers out of the way, let's turn our attention to seven of the best 404 plugins for WordPress.
1. 404 Page

Compatible up to: WordPress 4.3.0
Last Updated: 2015-08-19
Current Version: 1.0.0
Rating: 0 out of 5 stars (0 reviews in total)
Author: SeedProd
While the 404 Page plugin itself is rather new, its author maintains two other popular offerings: WordPress Notification Bar and Coming Soon Page & Maintenance Mode. Their track record in terms of reviews and support bodes well for the development of this new entry.
404 Page allows you to create a custom page to replace your theme's default Not Found error page.  It should work with any WordPress theme, supports HTML5 and CSS3 and is compatible with both Multisite and BuddyPress.
A premium version of the plugin is also available in the form of 404 Page Pro. This takes the innovative approach of turning 404 pages into lead capture pages by integrating with a range of email marketing tools such as MailChimp, Aweber and Infusionsoft – all of this on top of the usual redirect features.
The pro version also offers responsive-ready design, localization in over 18 languages and many other features. Pricing is available in licenses ranging from $29 to $199.
While this approach may not be the best for every website, it's an option worth considering if you want to build up your leads.
2. All 404 Redirect to Homepage

Compatible up to: WordPress 4.3
Last Updated: 2015-8-8
Current Version: 1.4
Rating: 4.7 out of 5 stars (25 reviews in total)
Author: Fakhri Alsadi
As straightforward as its name implies. All 404 Redirect to Homepage simply re-routes 404 errors using 301 redirects which result in an HTTP response status of "Moved Permanently".
The author was prompted to develop this plugin after getting started using Google Webmaster Tools, which counts the number of "Page not found" entries for your website and takes those as part of the evaluation process to determine its ranking.
Why use this particular method of redirection? From an SEO perspective, a 301 redirect passes along most of the dead page's link authority to the new destination. Put simply, it tells search engines "Hey, what you're looking for can be found here! Forget about that other page".
Examples of its use include changing domains where you want to make a smooth transition to your new site or if you have multiple URLs through which you funnel traffic. Google itself is a good example of the latter with a variety of websites such as google.net, gooogle.com, gogle.com, and even 466453.com all redirecting towards google.com.
Note that it's also recommended to implement a 301 redirect between your website's www and non-www URLs in order to avoid difficulties with duplicate content.
3. 404 to 301


Compatible up to: WordPress 4.3
Last Updated: 2015-9-3
Current Version: 2.0.5
Rating: 4.5 out of 5 stars (15 reviews in total)
Authors: Joel James and is_code()
Similarly to All 404 Redirect to Homepage, the 404 to 301 plugin redirects all 404 errors to whichever page you choose, although it can also use other status codes if you so prefer.
The other redirection types supported are 302 and 307, though we recommend 301 for the vast majority of situations.
The plugin also allows disabling redirection altogether while just maintaining logs by selecting the "No Redirect" option. This works in conjunction with email notification to keep you on top of  errors. The logs save the URLs from which the visitors landed, IP addresses, dates, browser and OS details in order for you to pinpoint unique errors later at your leisure.
You can choose whether you redirect to an existing or custom page as well from the "redirect to" options and the custom page option also enables you to choose individual posts as destinations.
404 to 301 markets itself as "incredibly lightweight and developer friendly" and maintains an active GitHub repository – always a good sign. The developer team also appear to be highly active when it comes to answering support questions and bug fixing.
4. Custom 404 Pro

Compatible up to: WordPress 4.2.4
Last Updated: 2015-6-28
Current Version: 1.4.1
Rating: 4.4 out of 5 stars (5 reviews in total)
Author: Kunal Nagar
Much like our other options, Custom 404 Pro enables you to replace your theme's default 404 error page with a custom one. The plugin offers basic three choices:
Choose a custom page from your WordPress Admin Panel.
Enter a custom URL.
Limit yourself to just going over the logs from all 404 errors.
404 Pro – which despite its name is completely free – does offer a unique feature. It records the keywords that led users to the error page and also includes custom filters to narrow down other interesting data in case you want to dig deeper.
The plugin's author, Kunal Nagar, prefers that users use 404 Pro's Github repository in order to open issues rather than WordPress's support forums. Nagar appears to be on top of most requests for troubleshooting and feature implementation with speedy response times.
5. 404 Error Logger

Compatible up to: WordPress 4.3
Last Updated: 2015-8-2
Current Version: 1.0
Rating: 4.7 out of 5 stars (6 reviews in total)
Author: Samir Shah
404 Error Logger stands out from our other selections in that it doesn't actually help you fix 404 errors; it just sits in the background and takes handy notes.
With 404 Error Logger you have the option to record data such as IP addresses, browsers, OSs and referrer URLs. You can use all of these later to fix broken pages either with the help of another plugin or with a little bit of elbow grease by digging into the .htaccess file.
There's a nice feature included which allows you to perform a whois IP search using DuckDuckGo's !whois tool. Logs can also be exported to CSV if you prefer to go through them in Excel later.
Users are warned that the plugin won't work in conjunction with caching/performance plugins that save 404 responses, but it does run perfectly alongside W3 Total Cache and WP Super Cache.
6. Redirection

Compatible up to: WordPress 4.2.4
Last Updated: 2015-5-25
Current Version: 2.3.16
Rating: 4.2 out of 5 stars (158 reviews in total)
Author: John Godley
Redirection is by far the most popular plugin in this list, with over 400,000 active installs. It does pretty much everything all the other plugins mentioned do within one single package.
Basic features include 301 re-direction of 404 statuses, 404 error monitoring and logs, the ability to redirect all URLs – not just "Not found" errors – and the possibility of customizing redirects depending on login status or referrer.
The plugin can also be configured in order to automatically redirect a post should its URL change, use either 302 or 307 redirections if preferred and is fully localized in over 20 languages (including Spanish, French, German, Russian and Japanese).
The developer, John Godley, also prefers to handle bugs and feature requests through Redirection's Github repository.
7. SEO Redirection Plugin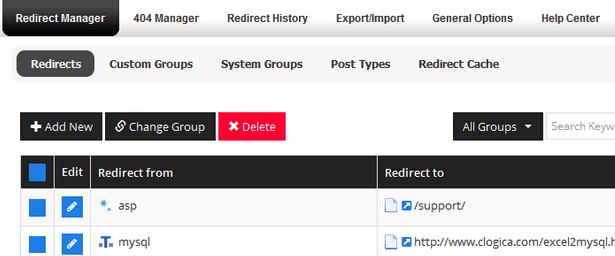 Compatible up to: WordPress 4.3
Last Updated: 2015-8-28
Current Version: 2.8
Rating: 5 out of 5 stars (23 reviews in total)
Price: $29
Author: Fakhri Alsadi
SEO Redirection Plugin is our second premium plugin and also Fakhri Alsadi's second appearance on the list. This plugin basically adds all the features missing from the straightforward All 404 Redirect to Homepage and comes in both free and premium versions.
The free version includes all the features we've come to expect from this family of plugins: 301, 302 and 307 redirection as well as the option to redirect entire folders at once and keeps detailed logs.
The premium offer includes additional options such as a redirect cache, the capability of adding 404 rules to automatically handle redirects as errors pop-up, importing and exporting of redirect rules and a Bootstrap-based GUI.
Conclusion
301 redirection is considered the best method to deal with 404 errors, which is why the majority of the plugins listed share a very similar feature set.
Some people will always opt for the most feature-packed options, but if all you need is simple redirection and don't plan on poring over logs, one of the more "basic" plugins would suit you perfectly.
If you're the kind of person who likes to micro-manage every aspect of your site's performance, extra options included in Redirection or 404 Page Pro might be welcome.
With so many 404 solutions at hand, there's no excuse for not preparing in advance. Every site occasionally faces technical issues and the best developers are those who plan ahead instead of rushing to patch holes afterward.
What's your favorite way to deal with "Page not found" errors? Let us know in the comments!
Article thumbnail image by 10 FACE / Shutterstock.com.