As a service-based business owner, scheduling appointments can be a real nightmare.
Not only can it be a huge and unpredictable time suck, but mis-scheduled appointments can also have a seriously negative impact on both your bottom line and your reputation. If you want to not only remain in business but prosper, scheduling appointments efficiently and reliably should be a top priority.
Fortunately, the solution to efficient and reliable appointments scheduling is a simple one: use a WordPress plugin. There are a number of options available, which in itself can make the task of picking one overwhelming. Fortunately, that's where we come in.
In this post, we take a close look at the seven best WordPress scheduling plugins currently available and provide you with all of the relevant information you need in order to make the best choice for your business.
Let's get cracking!
How Proper Scheduling Can Boost Your Business
Using online tools for work scheduling can not only save you from lost productivity due to human error; they can also boost your bottom line.
Handling bookings and appointments by hand in this day and age is (at best!) inefficient, considering how many timesaving tools that can automate the entire process are available. The (typically small) fee required by such services is more than made up by the reduction in scheduling errors and increase in efficiency improvements.
Better still, according to leading SaaS booking solution provider ScheduleOnce, using an online booking service can lead to a 3x increase in conversion rates for your services.
A good online scheduling solution will also help you reduce lost time and revenue due to clients not showing up, thanks to the ability to send them reminders before their appointments roll around and give them the chance to cancel them if circumstances change.
Convinced that automated scheduling systems are the way to go? Great! Let's take a look at the best booking plugins available out there, ready for integration with your WordPress website.

Let's start off with a simple, hands-on tool in case you're not ready to jump off the deep end quite yet.
WP Simple Booking Calendar lets you display, as you might have guessed, a booking calendar on your website to display dates in which you're available for services, or perhaps the booking schedule of a property.
Although it won't help you share hourly schedules or actually let users make bookings, it's dead simple to use and great for those looking for a no-frills option to display their availability.
Features:
Simple unobtrusive calendar, color-coded for an easy overview of available dates.
…that's it. I said it was simple 😉

SuperSaaS offers a booking solution for businesses of all sizes. It offers a free version that includes ads and limits upcoming appointments (as well as the maximum of registered users you can add to your business) to 50, and five different paid tiers which mostly vary in the number of maximum upcoming appointments they can handle.
Although deceptively simple, this plugin can handle up to 1,500 simultaneous appointments and keep past reservations in the system for payment reviews.
You can take a run at the booking procedure on their demo website or check out their in-depth documentation for more information on installation and setup.
Features:
In-depth customization options for schedules, booking fields, and drop-down lists.
Enables you to specify how far in advance appointments can be set and limit the number of bookings from a single user within a period of time.
Payments can either be handled in person or online via PayPal, and customers can be sold store credit or discount coupons for future online payments.
The SuperSaaS booking system can be linked with external calendars such as Google Calendar, Microsoft Outlook and iOS calendars, enabling you to keep track of appointments without having to log into WordPress.
As the administrator, you can assign schedule-management privileges to other users within WordPress.
Offers detailed reporting on each customer, including their appointments and payment history.
Available in 28 different languages with support for multiple currencies.

BirchPress Scheduler is an appointment booking manager built specifically with small business owners in mind. Among the examples listed on the plugin's page are spas, yoga studios and photographers; hardly what you would call Fortune 500 companies.
Aside from handling regular appointments, BirchPress Scheduler can also take care of staff assignments and schedules, making it a double-edged tool for business managers.
The premium editions pack a little extra punch with features such as email notifications both for the administrator and custom confirmation messages for customers, an auto-fill option for recurring customers, color coding appointments, declining bookings made without a minimum window of time in advance, group bookings, and support for several online payment platforms.
There are several premium tiers for different-sized businesses (in yearly plans), which should be taken into consideration if you want to enable customers to make online payments and gain some extra control over scheduling.
Features:
Bookings can be made for specific times, specifying the duration of services, the time between clients and pricing information.
If your business has multiple persons in charge of attending customers, the latter can choose between staff members and different kinds of services. The plugin also enables you to assign staff to different tasks directly.
Enables you to add, edit or delete appointments from within the dashboard.
The booking forms are ready to be integrated into responsive themes.
Includes support for multiple currencies and customer payment history.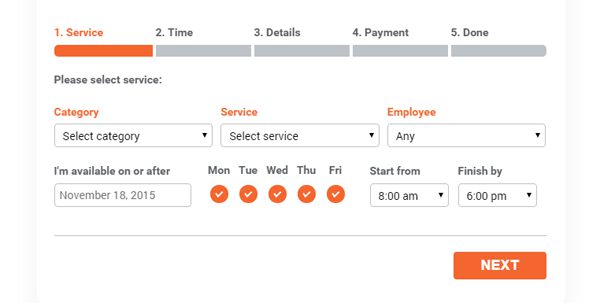 Bookly is a premium-only plugin and its license will set you back $46, but it comes packed with enough features to make the purchase attractive for businesses of all kinds.
Aside from its booking features, a license will also get you six months of full support from the developers (covering technical difficulties, bugs, and compatibility issues with other plugins) and of course, future updates.
You can check out a live demo of the plugin or go through their library of video tutorials for more information about how to use the plugin.
Features:
Powerful admin interface and customization features, enabling you to make each scheduling form stand out.
Attractive and responsive booking interface divided into five steps: service, time, details, payment (with integrated support for PayPal and direct credit card payment if the customer doesn't want to pay in cash) and confirmation.
Credit card payments can be handled via Authorize.net, PayU Latam, Stripe, and 2Checkout.
Enables you to handle staff scheduling, task assignment, individual prices according to different services, and their days off.
Includes support for integrating unlimited service providers into your schedule, so you won't need to use separate tools for customers and other business-related appointments.
Detailed payment reports which can be filtered according to several criteria.
Includes support for creating and managing discount coupons.
Custom email confirmation messages for customers.

This powerful plugin is used by thousands of businesses to handle their appointments and equipment rentals, keeping track of meetings and every other business-related event that would otherwise be jotted down on a calendar.
It offers a solid free version that doesn't skimp on features and four different premium plans for businesses of varying sizes, as well as multisite licenses.
Features:
Can be used for handling complex bookings such as equipment rentals or assigning specific properties (i.e. rooms for an inn or bed & breakfast), on top of regular business scheduling for service professionals and keeping track of meetings.
All the booking calendars are customizable and mobile-ready.
Choose between several attractive email templates to serve customers with notifications and booking receipts.
Enables you to set varying rates depending on your own criteria, such as limited availability, seasonal rates, etc.
Both you and your customers can edit their existing bookings in case it's necessary to reschedule or any mistakes were made during the scheduling.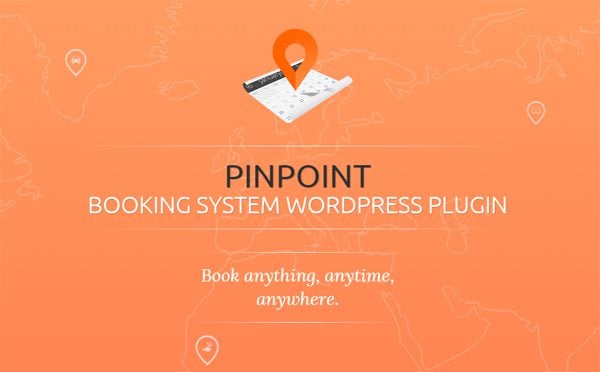 Another premium-only plugin, the Pinpoint Booking System PRO will set you back $50 for a regular license including six months of support from the developers and a free future updates.
The Pinpoint system can handle pretty much any type of booking you throw at it: hotels, taxis, hairdressers, restaurants, clubs, pet care, spas, etc. However, the developers do make it a point to mention on the plugin's main page that they're available for pre-purchase consultations if you want to double-check whether the plugin contains the features that you'd need for a specific business.
If you want to take a closer look at how the plugin looks in action, check out their collection of live previews or this demo of its admin panel ("demo" is both the username and password).
Features:
One-page AJAX-powered booking system including all the important required information and even terms and conditions.
Enables you to modify the fields shown when clients are making appointments depending on the kind of services you provide. For example, a hotel booking would ask for the number of adult and children occupants, and any extras you choose to include.
Includes a coupon and discount management system.
The plugin can be integrated with WooCommerce in order to apply its full range of features to specific products.
Customize email notifications or choose from amongst several templates for multiple events.
Enables you to approve or reject reservations if you want to handle requests manually.
Supports online payments through PayPal.
Comes with support for multiple languages and currencies.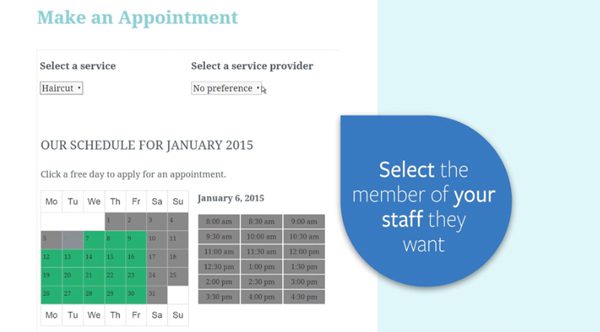 Coming out at the top of our list, Appointments+ packs in pretty much every feature we've covered so far and does it all with style.
It's available either through a WPMU DEV membership or individually for $19 per month (which will save you approximately six bucks) and it comes with support from the dedicated WPMU DEV staff.
Features:
A setup wizard to guide you step-by-step through the installation and customization process.
Simple booking process and payment processing via PayPal.
If your business involves multiple people working with the public, customers can choose from amongst the staff aided with brief bios and headshots of your employees to give the process a personal touch.
Customers can log in via Facebook, Twitter, and Google+ on top of their regular WordPress users.
Both you and your customers can save your appointments to Google Calendar.
Enables you to set up specific limits for advanced bookings.
Repeat clients can save their appointments preferences in order to avoid filling the same forms over and over again.
Enables you to ask customers for upfront payment and automatically removes bookings which haven't fulfilled their deposits, to prevent fraudulent bookings.
The plugin can be configured to send automatic email reminders to customers concerning their appointments.
Conclusion
We've featured a number of plugins above, and with good reason – what is suitable for one business may not be suitable for another. Consult the summaries and features list of each and make the decision that is right for you.
That said, a top quality booking plugin should (at the least):
Eliminate time spent manual scheduling.
Be easy for all parties to use.
Give customers all the information they need.
Provide support for whatever payment processor you prefer.
While a tight schedule and a good booking solution alone won't work miracles, you can bet they will make running your business considerably easier and more efficient.
Do you have any questions regarding the plugins we have featured above? Fire away in the comments section below and we'll be happy to help!
Article thumbnail image by iNueng / shutterstock.com