Even if you've done everything right when it comes to content, optimization, responsiveness, SEO, and marketing, you might still be missing out on a lot of potential site visitors due to the simple fact that not everyone in the world speaks the same language.
The good news is that if you do decide to take the necessary steps to make your content intelligible to a wider audience, you don't need to drop some major dollars to make it happen.
WordPress is blessed with a range of excellent plugins to help you create and handle multilingual content and we'll step you through ten of the best options in this article. Before we begin, let's consider why you might want to offer your site in multiple languages in the first place.
Is It Worth Offering Multiple Languages on Your Site?
Though English is the dominant language of the web, native English speakers are a mere 26% of the total online audience – a figure that's significantly down compared to the early days of the web and set to fall further as more of the world comes online. Outside of the Anglosphere, multilingual environments are the norm, and even in massive English-speaking markets such as the United States over ten percent of the population speaks Spanish.
Catering for more than one language is an option that frequently pays off in multiple ways. For example, European clothes retailer ASOS saw their international sales increase by 39% after expanding their footprint to Russian and Chinese markets in 2013.
The Best 10 WordPress Translation Plugins for Going Multilingual
Providing multilingual content represents a massive opportunity for many site owners and the plugins we've rounded up will help you take advantage of it on your own site. Let's crack on with the list!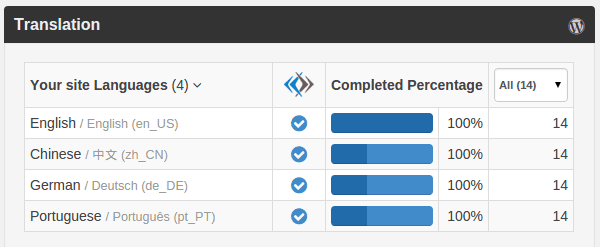 The Lingotek Translation plugin taps into a cloud-based translation network where you've got the option of sourcing translations using either machine-powered solutions, crowd-sourced solutions, or by hiring professional translators from a pool of over 5,000 certified linguists.
Features
You can check on the status of your in-progress pages or documents at every step of the way with integrated percentage bars showing the status of ongoing work.
The plugin enables you to choose your translation method (machine, crowd-sourced or professional) and queue the finished product up to be published right away. You'll need to register an account with Lingotek to gain access to these options.
If you want to handle the translations yourself or bring in a translator that isn't affiliated with Lingotek, the plugin also contains a professional text editor built with translators in mind.
Machine translations are free for up to 100,000 characters and are handled by the Microsoft Translator API.
The GTS Translation plugin aims to help increase traffic to your site through a combination of machine translation – polished through crowdsourcing to avoid embarrassing grammatical mistakes – and search engine optimization functions.
The extent to which that will work will naturally vary from site to site, but the plugin employs a very efficient approach to translation by getting the bulk of the work translated automatically and then edited by humans thereafter.
Features
GTS Translation Services (the service provider behind the plugin) officially support over 30 languages, although the platform can be used for others if you have access to your own translators.
The plugin enables you to either fully automate the machine translation and post-translation polishing or manually review projects as you go.

The Google Language Translator plugin isn't an official Google plugin, rather it's a tool built on top of Google Translate that's designed to enable you to offer multilingual content in the simplest fashion possible.
Unlike our previous choices, all you have to do here is download and activate the plugin, select from a handful of options, and you'll have at least a rough version of content in the languages of your choosing ready to go.
Features
Support for over 80 languages powered via Google Translate.
Simple and fast setup process.
Enables visitors to manually switch between either a selected set of languages or the entire range of Google Translate's options.
Google branding can be turned off if required.

Google Website Translator is another plugin built on top of Google Translate, this time offering a few more customization options than our previous selection.
Features
Support for over 80 languages.
Setup is nice and simple with customization features available such as display and style modes for the translation toolbar, alignment options, and the choice of whether to show flags or not next to each language.
Optimized for blazing-fast loading times.
The developers are active when it comes to reviewing support tickets and open to feature requests.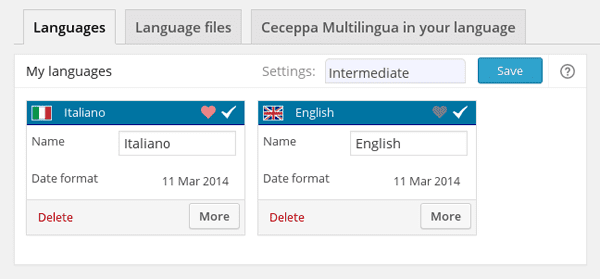 The Ceceppa Multilingua plugin starts moving our selections away from translation and into aspects of handling multilingual content in the context of a WordPress site. This plugin assumes that you've already sourced your translations and is built to give you the tools to display them.
Features
Enables you to handle the same articles in multiple languages from within your dashboard through a system of tabs and customized URLs for different languages.
Handles unique URLs for each language in an SEO-friendly manner.
You can quickly check which languages each post has been translated into via simple flags displayed on the dashboard.
Enables you to customize widgets for each language.
Works with custom post types.
Includes a widget for easy switching between available languages for each post.

MultilingualPress assumes you're providing different languages using WordPress' Multisite functionality and connects pages in different languages through a customizable language selector widget. Over 170 languages are catered for through the plugin's Language Manager.
Features
The plugin is designed to prevent data loss, which means that connected posts will not disappear if a version is deleted and translated pages can stand on their own. This feature can also be disabled in case you want to handle all translations of a post as if they were a single one.
The post editor allows you to manage all versions of the same post from within the same page to speed up the translation process.
Enables you to translate categories and tags on top of posts and custom posts for enhanced SEO.
If widgets aren't your thing, the plugin can automatically add links to other languages within each post.

Multilanguage is another solid option for helping you manage a multilingual site assuming you've already gotten your hands on translated content.
Features
The plugin includes support by default for 76 languages and new ones can be added with ease by modifying the languages.php file.
You can specify multiple languages for each post and other metadata, as well as adding translations from within the editor.
Users can switch between languages when translations are available through a widget which includes a customizable list.
Search functions are automatically performed in your site's default language.
Enables you to also translate the plugin's dashboard in case you want to go the extra mile for contributors.

WPGlobus is the centerpiece of a family of plugins for multilingual WordPress sites including separate add-ons such as WPGlobus for WPBakery Visual Composer (enabling the core plugin on themes that support WPBakery), WPGlobus for TinyMCE, WooCommerce WPGlobus and WPGlobus Plus (these last two add-ons are premium).
While in this case it's the add-ons that make the plugin shine, the core features of WPGlobus still make for a robust backend for multilingual sites.
Features
Gives you the tools to manually translate all kinds of posts and widgets for your site.
Enables you to add languages to your site and includes automatic SEO features for translated content.
Users can switch between languages when available for any given post either through a drop-down menu or a widget.
The language of the administrator interface can easily be switched depending on your preferences right from within the dashboard.

Our next pick is a heavyweight plugin that tackles both multilingual management and the translation process itself. WPML is the grandaddy of WordPress multilingual plugins and is available in a number of licenses: Multilingual blog for $29 yearly, multilingual CMS for $79 yearly, and a lifetime all-included option for $195.
The blog option is naturally aimed towards sites with less complex needs and is able to handle multilingual posts of all kinds, along with taxonomies and menus. It's also able to detect the language of visitors' browsers.
The CMS offering includes all these features plus the ability to translate custom fields, widgets, and themes. It also offers e-commerce support and multi-user translation management amongst other features.
Features
Compatible with most themes and out-of-the-box support for over 40 languages.
30 days money-back guarantee and support for unlimited sites with any of the versions listed above.
The CMS version offers a fully developed platform through which translators can be assigned jobs and in turn be supervised and reviewed by editors.
Your WPML install can be connected to several professional translation services if you wish to outsource the work and you can enable several levels of notifications and management screens to oversee progress on your site.
Active development team that offers dedicated support in nine different languages, from Monday to Saturday, and very active community forums.

Last but not least, Polylang offers a well-rounded option for those seeking an all-in-one solution for setting up and managing a multilingual WordPress website.
It also works with Lingotek – the first option on our list – by enabling you to link its translation service to your install through an addon. You can also opt to use other translation services or do the work manually.
Features
The plugin offers support for 41 languages with the admin interface available in all of them.
Enables translation features for regular posts, custom posts, taxonomies, widgets, and pretty much anything else you can think of.
Although the plugin can automatically detect the language of a post, you can also set it manually or through a code in the URL.
Enables you to use unique subdomains for each enabled language.
Users can switch between languages through a widget in the navigation menu.
Should You Consider Professional Translation?
Over the course of this article, we've mentioned professional translations a bunch of times as an option for those looking to take their multilingual sites to the next level, but only you can decide whether the expense would be justified or not.
Despite how much it's improved of late, machine translation can only take you so far – if it's your main tool when it comes to translating content, you'll have to make your peace with the fact that it's going to be a long way from perfect and, in many cases, may be barely understandable.
Professional translation should be seriously considered as an option if you're already making money from a website and think the upside will potentially cover the costs. It's worth reviewing standard translation rates to get a feel for how much money you could be looking at.
If you do opt to go the professional route, remember that it's not as simple as just paying someone to take care of the translations, setting up your multilingual plugin, pasting them in and forgetting about it. Firstly, managing a translation project is an undertaking in itself and you'll need to follow sensible guidelines in terms of sourcing a professional.
Secondly, capturing new readers or customers from a different geographical region will likely also require some back and forth or multilingual support if you're selling a product – the process can be fraught with cultural differences.
Before you earmark any money for translation services, aside from considering whether it will be a financially viable enterprise, also weigh up whether you're willing to provide extended support and engage with your new base of customers or visitors.
Conclusion
Does the idea of translating your site still seem daunting after reading all that? Don't panic! Just start small, try out the waters with a single additional language if you think you can benefit from it, and see where things go from there.
If you're simply looking to expand your SEO reach, any of the first four items on our list will get you off to the races. If you've already got access to translated content and are ready to hit the ground running, WPML or Polylang are probably your best bets to get moving quickly.
Do you have any personal experience running a multilingual site? Or do you know of any multi WordPress translation plugins we missed? Let us know in the comments!
Article thumbnail image by Decorwith.me / shutterstock.com