Most people who own a car would never think twice about the importance of maintaining it. You know that regular oil changes, correct tire pressure and a full tank of gas are necessary to keep everything running smoothly and safely.
Your WordPress database is no different in that regular maintenance will keep it running more smoothly, faster and with fewer problems.
But what we know, and what we do are often two different things. The vast majority of WordPress users, rarely take the time to maintain their database. Relying instead on good luck and crossed fingers. You don't want to be that person.
The good news is that maintaining your WordPress database is not as complicated as you might think. While you could choose to use phpMyAdmin, there are in fact a few plugin options available that can make maintaining your database much easier.
To help you get started, we're going to cover some of the best WordPress Database Plugins – designed to make your life easier and your website faster.
Why Your WordPress Database Is So Important
As a WordPress user, you probably realize that your website is essentially made up of three components:
The WordPress core files
Your theme files
Your mySQL database
The first two items, while essential, are easily repaired, replaced or reinstalled. Your database, on the other hand, can not be replaced. It's unique to your website and the more information it contains, the more valuable it becomes.
Every single piece of content on your website is contained within your database. Post, pages, comments, meta information, users – you name it, it's there. The easiest way to emphasize the importance of your database is to imagine how you'd feel if every page and post on your website disappeared in the blink of an eye. Bad news, right?
Limiting the number of revisions stored in your database plays a huge role in keeping everything organized and running at optimal speed. As well, over time, your database will accumulate what is called overhead. An excessive amount of overhead can slow down your website. Cleaning, or "optimizing" if we're to use the correct term, is very similar to performing a defrag on your hard drive or emptying your trash bin.
While the focus of this post is covering some of the different database maintenance plugins, it should go without saying that regular backups are also vital. Even a fast car is useless if you crash it and don't have insurance.
6 of the Best WordPress Database Plugins
Any plugins covered in this list were required to be compatible with the current version of WordPress (4.3). Searching through the plugin repository, you'll find that quite a few options are not up to date or the support forums currently indicate unresolved bugs. I've done my best to filter out those options which should make your selection process much easier.
I've included different types of database plugins, not just maintenance, but also revision control plugins, and a few free database backup plugins.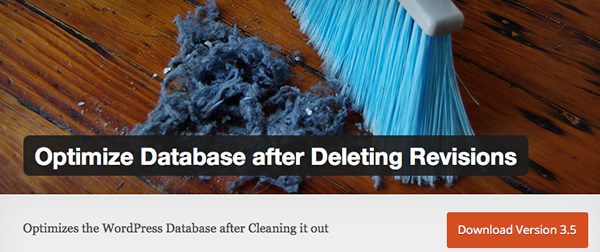 This plugin is billed as a simple "one-click" solution database cleaner and optimizer. Installing this plugin will add a single menu item under settings called "Optimize DB Options". With about 30 seconds of setup time, this plugin will be ready to run on a manual or scheduled basis.
The customization options include the ability to set the maximum number of revisions for posts/pages as well as the ability to control the following:
Deleting all items currently sitting in the trash
Deleting all items currently sitting in spam
Deleting any unused tags
Deleting expired transients
Maintaining a log of all transactions
Selecting a schedule if you want to optimize automatically
You can choose to display a 1-click activation from within the top admin bar
There is also an option to select tables within your database that you don't want to be optimized. If you request the plugin to keep a log, you'll be able to view a complete list of everything that's been deleted. Plus, you'll see a summary of your optimization efforts in terms of the overall database size. This is an easy to use plugin capable of getting the job done with little fuss. At 60,000+ installs, it has a decent user base and an active support forum.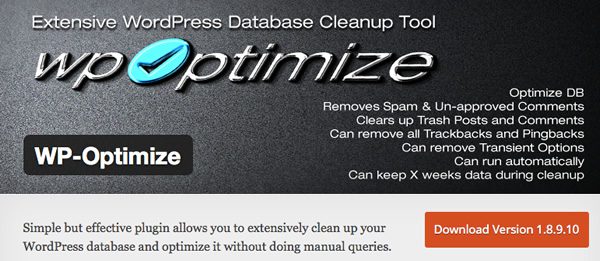 Although you can download WP-Optimize from the WordPress.org plugin repository, support is available via email or on Github. This is another database maintenance plugin that you can set to run automatically. It's capable of performing the following actions:
Deleting all post revisions
Deleting all auto drafts as well as drafts that are moved to trash
Removing spam comments and comments moved to trash
Deleting any unapproved comments
Removing transient options
Removing pingbacks
Removing trackbacks
Optimize database tables
WP-Optimize also has an additional setting that allow you to retain a predetermined amount of data. For example, you might want to keep the last 2 weeks of data and only delete items older than that. There is also the ability to enable an admin bar link for easier access.
Auto clean-up settings can be set to a predetermined schedule and can also have different settings than the manual option. Finally, this plugin displays a list of all tables including the corresponding data – records, data size, index size and overhead.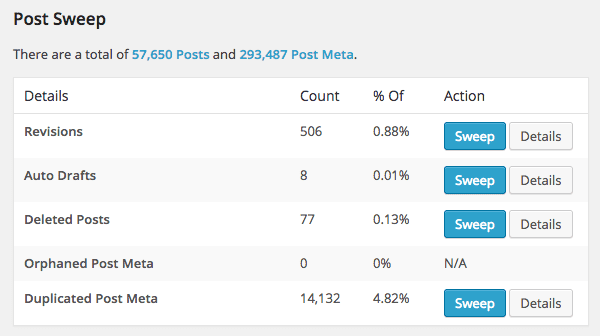 WP-Sweep is an option from well-known plugin author Lester Chan. It has over 10k+ active installs, a well-maintained support forum and plenty of positive reviews.
This plugin is unique in that you can easily "sweep" individual items or everything at once. The admin screen, located under settings, conveniently breaks down the maintenance tasks into six main categories including:
Post sweep
Comment Sweep
User Sweep
Term Sweep
Option Sweep
Database Sweep
Contained within each category are the individual items you would expect to find such as the ability to clean up revisions, drafts, deleted posts and orphaned items. One thing this particular plugin does not offer is the ability to automatically schedule tasks. That said, it's probably the easiest plugin to use and it's clear that functionality comes first.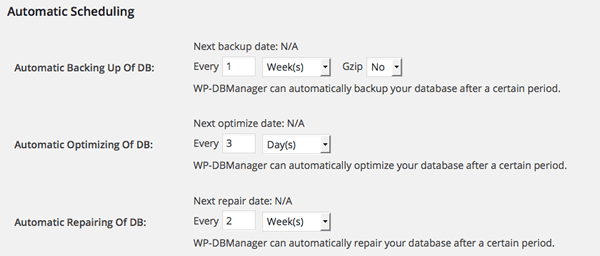 As the second database management plugin in this list by Lester Chan, WP-DBManager offers some different functionality. Once installed this plugin creates its own menu in the dashboard called Database. Although this plugin offers different features, it's also worth noting that you could actually do some damage to your database with this plugin. Use it with caution. Features included with this plugin are:
Optimize the database
Repair database tables
Backup the database
Delete the database backup
Restore the database
Unlike WP-Sweep, this plugin also allows you to schedule certain functions including backup, optimizing and repairing. One feature of this plugin that is particularly convenient is the ability to maintain multiple backup copies of your database. You can also download, restore or delete and specific copy with just 2-clicks.
There are two areas of this plugin that deserve caution. The first is the ability to empty or drop tables from the database and the second is being able to run SQL queries from within the plugin. Unless you're familiar with either of these, it's not a good idea to experiment on your live site.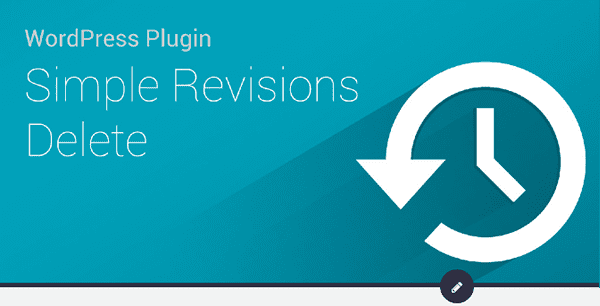 There might be times when you wish that you could have revision control over specific posts or pages. Deleting only the revisions that you know you're done with. Simple Revisions Delete is a plugin that provides this exact functionality. The plugin claims to be very light weight and is easy to use.
Following installation, you'll find a link next to the default WordPress revision counter. Once clicked, it will delete all revisions for that specific post. As an added feature, when viewing a list of pages or posts, you'll also be able to perform a bulk revision delete.
This particular plugin might not be an ideal option if you already have many posts or pages published, but for a fresh WordPress installation in which there are not too many different authors, it might be a convenient option.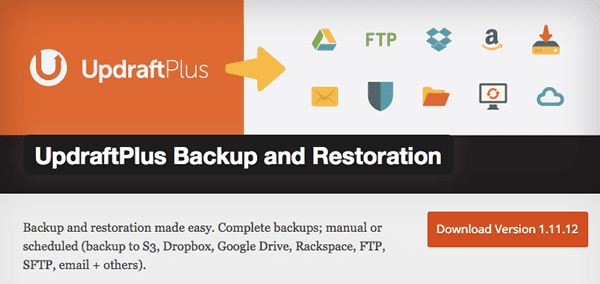 Although this plugin has the ability to perform a full backup, our attention is focused on its ability to backup your database. Both manual and automated database backups are easy to configure and this plugin can easily be integrated as part of your database maintenance program.
Uploading backups to a variety of third-party options is possible including Amazon S3, Dropbox, Google Drive, Microsoft Onedrive and Rackspace. Plus, your database can be encrypted from within the WordPress control panel. If anything ever goes wrong with your database, you can easily perform a one-click restore.
Wrap Up
There is no arguing the fact that your database is the most vital part of your WordPress website. Despite this fact, most people who run a WordPress site give little thought as to what might be going on in the background. Databases are a funny thing, nobody really thinks about them until there's a problem and it's too late.
If you are running a WordPress site, one of the best things you can do is implement a regular, scheduled database maintenance program. That includes cleaning and organizing as well as performing regular backups. Take care of your database, and it will take care of you.
Has anything ever gone wrong with the database of your WordPress website? Do you have suspicion that your database is slowing down your WordPress website? If you have a favorite plugin that you use to help maintain your database, please share in the comments below.
Article thumbnail image by Tarchyshnik Andrei / shutterstock.com