WooCommerce Deposits Extension Plugin allows you to select products or services on which you would accept deposits or payments. Customers can then place deposits or choose a payment plan on these products, rather than pay in full.
Installation for WooCommerce Deposits Extension Plugin
Download the .zip file from your WooCommerce account.
Go to: WordPress Admin > Plugins > Add New and Upload Plugin with the file you downloaded with Choose File.
Install Now and Activate the extension.
Also, Get Woocommerce Delivery Time Picker For Shipping
WooCommerce Deposits, your customers can put down a deposit or use a payment plan for products you specify. Nice, hey?
This robust and flexible tool allows you the ability to create custom payment plans, with variable percentages and intervals. Customers are guided through the process of paying for items as they browse and checkout, with easy-to-follow visuals.
Storewide Deposits Settings
Choose whether to give customers the ability to place a deposit on all products or only on some products.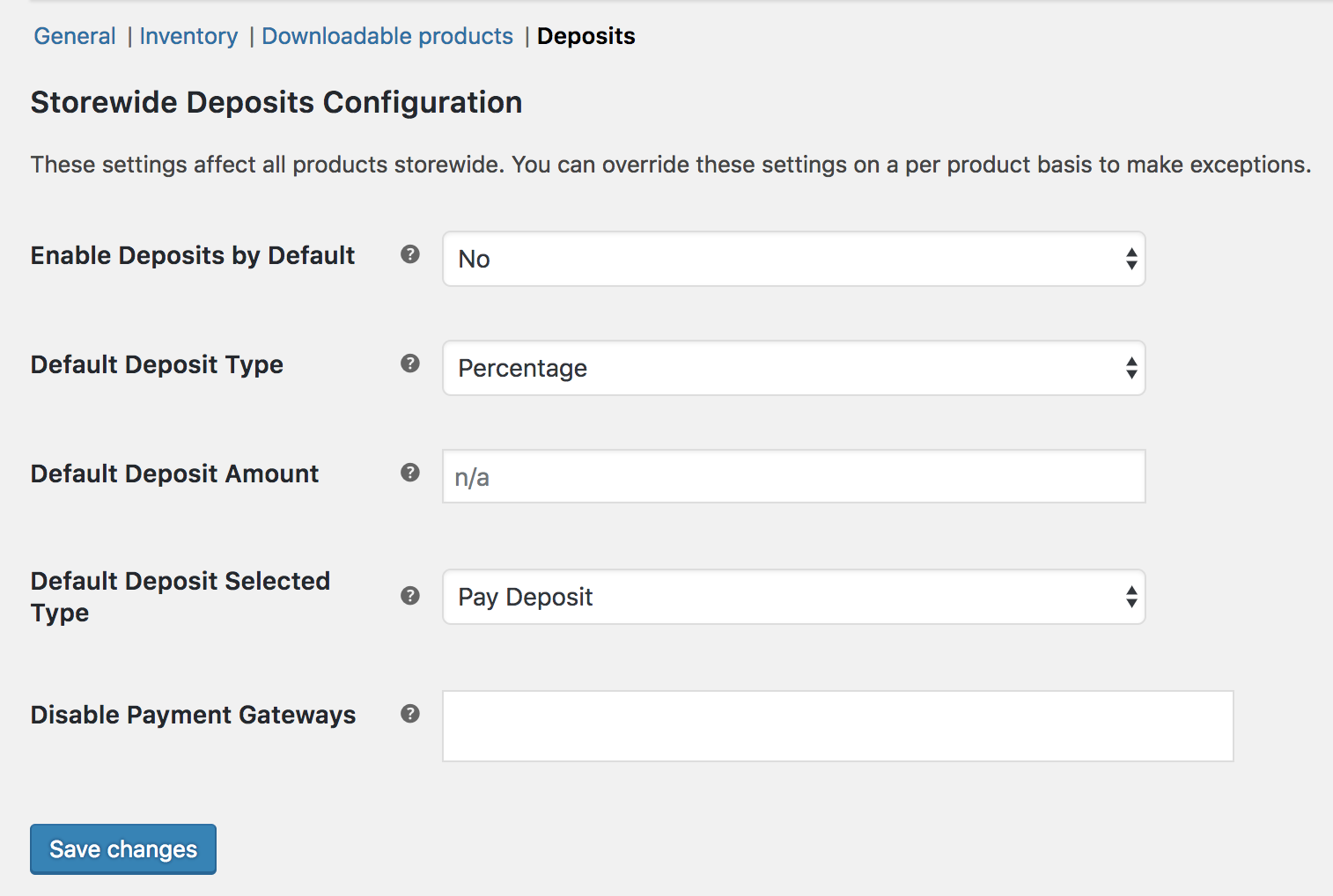 To apply the Deposit option on a global or storewide basis:
Go to: WooCommerce > Settings > Products > Deposits.
Enable Deposits by Default.

No
Yes – deposits are optional
Yes – deposits are required

 Select Default Deposit Type

None
Percentage – use a percentage of the total amount
Fixed amount – use a fixed amount for all products
Payment plan – use a predefined payment plan (see below)
Options in the next step will appear, depending on your selection.

If you selected:

None – go to next step
Percentage – Enter a number (%) to set Default Deposit Amount
Fixed Amount – Enter a number to set Default Deposit Amount
Payment Plan – go to the next step

Select Pay Deposit or Pay in Full for Default Deposit Selected Type.
If you selected Payment Plan (only)
Key Features
Custom payment schedules using days, weeks or months.
Payment acceptance as deposits, layaway plans or any payment structure you wish
Intuitive checkout flow for customers, explaining the payment plan in easy-to-understand visuals
Option for the customer to pay in full or with a deposit